Over the counter medication mix ups
Submitted by

Christina Anthony

on Thu, 01/12/2012 - 17:23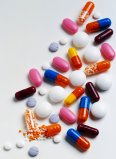 The makers of common over-the-counter (OTC) medications such as Excedrin, Bufferin, NoDoz, and Gas-X, Novartis, have issued a recall of these OTC medications as a result of numerous reports that opiate pain killers have been mixed into the fore mentioned OTC medications. The medications that have been reportedly mixed include Opana, Percocet, Zydone, and Endocet.
"Prescription Pain Pills Mixed with OTC Drugs from Novartis" (1)
"The Food and Drug Administration is warning patients about a potential mix-up between powerful prescription pain drugs and common over-the-counter medications" (2)
"Novartis is recalling some bottles of Excedrin, NoDoz, Bufferin and Gas-X Sunday over concerns that the bottles could contain stray pills from other medicines." (3)
As a result of the mix up one of the Novartis plants has been shut down because they failed to investigate over 150 customer complaints reporting medication mix ups since 2009.
Representatives from the FDA and Novartis are strongly recommending that consumers actively screen all medication they take to confirm that it is the same size, color and has the same markings as other pills in the bottle.
Novartis' officials are down playing the incident because no injuries have been reported however; the opiate medications mixed in are heavy narcotics with highly addictive properties. Also Percocet, Zydone, and Endocet each have high levels of Acetaminophen. Individuals who are unaware of the mix up are at risk of unknowingly consuming toxically high levels of acetaminophen.