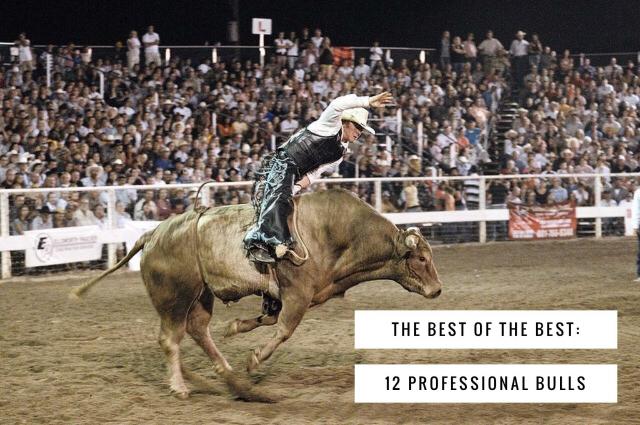 Sporting events, in general, have a way of getting our blood pumping. Stretching back to Gladiator times people have found entertainment in gathering together in support of players or teams in one extracurricular activity or another. Whether it is for bragging rights, the adrenaline rush, or the plain thrill of overcoming adversity, competition is only gaining ground.
Excluding team sports, there are only a few sporting events where the outcome is not determined by the participant's own actions. There are sports where it's an equal combination of how strong your opponent is combined with how strong your performance is. One of these sports is Bull Riding. Bull Riding has gained popularity over the years since headlining associations like the PBR have brought the bull riding world to the 21st century: World-class bulls working against world class riders, the best of the best.
From a business standpoint, the bull riding industry has grown from humble beginnings to what is now a highly lucrative investment. The top three money earners of all time have reached well over the $5,000,000 mark. Two-time world champion JB Mauney is winning the earnings race with a staggering $6,959,342.17. Followed up by three-time world champion Silvano Alves who has earned $5,674,544.00. While Justin McBride who has two world championships of his own has earned $5,150,052.58.
Bull Riding anyone?
Stock contractors have their own lucrative incentives for providing the best bulls in competition. $50,000 and a new stock trailer went to the 2015 Bull of the Year, Sweet Pro's Long John, owned by D&H Cattle Company. Affiliate associations like the American Bucking Bull Inc. (ABBI) awarded $200,000 to the top bull in the four-year-old division, 32Y Sweet Pro's Bruiser, owned by the D&H Cattle Co/Buck Cattle Co-partnership.
With that amount of money to be won, you can guess how much time and pedigree analysis is put into the bucking bull side of this equation. Human athletes are recognized for their sporting achievements, their win streaks, their records, and their ability to be the best for the longest amount of time, but what about the bulls?
In no numerical order, several prolific bull riders and stock contractors weighed in on who they would use as the most influential bulls in bull riding history.
Who has been the best of the best?
And the survey says…
BUSHWACKER
Raised by Julio Moreno who is no stranger to raising outstanding bucking bull athletes including Reindeer Dippin, the sire of Bushwhacker and also Roy, who finished reserve champion to Bushwacker in 2014. Moreno reached the pinnacle of the stock contractor world in 2011 when Bushwacker won his first PBR World Championship. Bushwacker went on to attain two more titles in 2013 and 2014 and has the longest buck off streak in PBR history with 42 straight failed attempts. He was only ridden three times by Markus Mariluch, Thiago Paguioto, and JB Mauney. After winning his last title in 2014, Moreno retired Bushwacker while at the top of his game, but Bushwacker is not done being rewarded. In 2016, he will be inducted into the PBR Brand of Honor, which is a prestigious award given to an extremely select few. When asked what Bushwacker was doing these days' post-competition, Moreno stated that "he has been turned out on cows until July, when we found out he was getting inducted into the Brand of Honor, we started getting him back in better shape." When asked if Bushwacker had any neat personality traits, Moreno stated, "When he is around the pens and I back the trailer up, he is right there wanting to jump on the trailer and go compete. He misses loading up, and going to a bull riding." "I retired him probably two years earlier than I should have, but I wanted him to go out on top, with his record, he deserved that."
PACIFIC BELL
Raised on the Russell Ranch in Folsom, CA, Pacific Bell was a big red brindle bald face bull that was known for his power and agility. He was the three-time PRCA Bull of the Year from 1988-1990 and is the only bull to ever achieve this award in three consecutive years. He had 150 outs and was ridden 5 times. Pacific Bell was inducted into the Pro Rodeo Hall of Fame in 2007. World Champion bull rider Cody Custer stated, "He was my favorite bull of all time. I got on him five times, and he was always great with me." "He did have a few trips that were less than perfect, but not with me." When asked what he thought about the other bulls on this list, Custer joked, "Hell, I don't think I stayed on any of the other ones. I did get on Mudslinger, but that didn't go well either."
RED ROCK
Owned by the Growney Brothers Rodeo Co. from Red Bluff, CA, Red Rock was a red brindle that was a force to be reckoned with in the late 1980's. He is famously known for the Challenge of Champions against World Champion Lane Frost. The challenge was a 7 head draw between the two greats with Frost coming out on top 4 to 3. It is reported that he bucked an astounding 309 times; outside the Challenge of Champions Red Rock was unridden. He was inducted into the Pro Rodeo Hall of Fame in 1990, and he died on the Growney Ranch at 19 years old.
MR. T
Owned by Hal and Pete Burns, this black and white spot bull with high up horns was chosen by every bull rider asked to participate in this survey of the top bucking bulls of all time. He was nine years old before anyone achieved a qualified ride on him. California native, Marty Staneart, was the first to accomplish this feat at the Cheyenne Frontier Days short round in 1989. Mr. T was only ridden three times in a career spanning almost 8 years. He was voted PRCA Bull of the Year in 1986. Mr. T died on Burns Ranch in Wyoming in 1994.
018 COWTOWN
He was the PRCA Bull of the Year in 1985. Hauled by Beutler and Son Rodeo Co., Cowtown came from Howard and Grant Harris who put on a weekly rodeo in New Jersey. Cody Custer mentioned that a lot of bulls around this time carried the same type of "O" brand that he carried, and most of those bulls originated in Florida. Custer remembers that he called Pro Com (an answering service for the PRCA that tells what performance and what draw a rider has in upcoming rodeos) to see what bull he had drawn in North Platte, NE. The recorder told him O18 COWTOWN. Custer stated, "I was thinking to myself who is O18? I had never heard anything called by that brand. It never came to me until I looked down at my paper, and saw what I had written. I just about passed out."
LITTLE YELLOW JACKET
Joe and Nevada Berger raised this red, crooked horned bull. Sired by the great Yellow Jacket who was sired by Wrangler Rivets, he was bound to be special. In 93 outs, he was ridden only 15 times. PBR and PRCA bull rider, Cody Whitney, was the last qualified ride on Little Yellow Jacket during the 2005 PBR Finals for 94.75 points. When asked about his ride, Whitney stated, "He was a great bull that was respected by every bull rider." "He had a little hop skip right out of there, but after that, he was one of the best feeling bulls I've ever been on." Little Yellow Jacket was Bull of the Year from 2002-2004 and the first bull in PBR history to accomplish three consecutive championships. Tom Teague purchased 50% interest in Little Yellow Jacket in 2002 and later purchased the remaining 50% interest after he retired. Little Yellow Jacket was inducted into the PBR Ring of Honor in 2011, just one year before he died at an early age at Teague's ranch in North Carolina.
DILLINGER
Hauled by Harrington Cattle Co., Dillinger was a big bull in an era of smaller caliber bulls like Blueberry Wine and Panhandle Slim. The heavily muscled black, bald face bull weighed in at close to 1,800 lbs., which is one reason it was so impressive that he could buck as hard as he did. Corey Navarre rode Dillinger at the 2001 PBR Finals for 94.5 points. When asked about Dillinger, Navarre stated, "Dillinger was one of those bulls that gave it everything he had every time he bucked. It was an honor to get him rode on the biggest stage in bull riding in Las Vegas." Dillinger was PBR Bull of the year in 2000 and 2001. With 51 outs and 7 rides, he finished his career with an 86.3% buck off rate. He was inducted into the PBR Brand of Honor in 2012.
BONES
Raised by Tom Teague, this black bald face bull with flat horns took the world by storm in 2007 when he burst onto the PBR scene. In 45 attempts, he was ridden 5 times with a buck off percentage of 88.9%. Two-time World Champion Justin McBride talks about his encounters with Bones with a slightly dry humor, "I got on Bones two times, the first time he bucked me off I remember thinking, well that was a fluke, but I got on him again at the 2008 PBR finals, and he quickly let me know it was definitely not a fluke. I had to eat a little crow there". He also talked about how much he meant to owner Tom Teague: "Bones meant a lot to Tom because he had been in the business a long time and purchased several good bulls, but to finally raise one of his own was really special." Bones was inducted into the PBR Brand of Honor in 2014. McBride said, "I think Bones was retired possibly before he was done, Tom wanted him to go out on top, but he might have had a little more to give."
AIR TIME
Owned by retired NFL defensive end Jared Allen. He is currently in the running for 2016 PBR Bull of the Year. This fact might be questionable for some people. The question would definitely not be about whether or not Air Time is a great bull because that is unquestionable. However, some people wonder if he has done enough to belong here just yet. When asked about it, Justin McBride stated, "If Air Time wins the 2016 Bull of the Year title, then yeah, I say he belongs on this list." Air Time has a current buck off percentage of 96.7% in 31 outs and he has only been ridden 1 time by Renato Nunes back in 2014 at the PBR in Phoenix, AZ for 92.5 points.
BODACIOUS
In 1992, Bodacious, a big yellow, down horned bull, started his career out with a bang. It took a year for him to be rode, and another two years after that to be rode again. He was originally owned by Jess Kephart, but was later purchased by Phil Sumner, before being sold to Sammy Andrews. He had 135 outs and was ridden 8 times. Bodacious was named PRCA Bull of the Year in 1994, and 1995 as well as top bull of the finals in 1992, 1994, and 1995. He will go down in history as one of the greatest of all time.
MOSSY OAK MUDSLINGER
Raised by D&H Cattle Co., this dark red brindle with straight, high horns was a bull riding favorite in the early to mid 2000's. He was sired by the Page bull 01 and out of Page cow 590, a Broke Back V cow from the Kephart breeding. In 96 outs, he was ridden 28 times. Two of these times were by PBR and PRCA bull rider, Cody Whitney. Whitney said, "I got on Mudslinger four times, and I rode him twice. Each time felt different than the time before." He also stated that Mudslinger was, "Hands down one of the rankest bulls I ever got on, you had to have your game on point to ride that bull." Another rider that had his fair share of the Page bull was Justin McBride. McBride remarked, "I got on Mudslinger more than I got on any other bull, probably 6 or 7 times." He also said, "I won a pile on him, and I got bucked off to win a pile on him too. In 2003, he was the last bull I got on to win the World that year, and he threw me off." "If you didn't mess him up, you were going to win first."
ASTEROID
Cooper Kangessier from Cunningham, KS raised this brindle, flat horn bull. When asked about this bull, Kangessier stated, "Asteroids parents were both raised on our ranch, Cotton was his sire, and he is out of a cow named, Lil Mama. When we started dummy bucking him he had a lot of kick, so we always had a lot of faith in his future, then when we bucked him with a rider he really turned it on, and we knew we had something special." He later sold Asteroid to Harlan Robinson who later sold him to Circle T Rodeo Co. Asteroid started his career in 2010 and he has only been ridden 4 times in 77 outs. At the PBR event in San Antonio, TX, JB Mauney was the first man to reach the 8-second pinnacle on Asteroid for 93.5 points. Asteroid was PBR Bull of the Year in 2012. He was retired after the 2014 PBR season, but in 2016, Chad Berger purchased Asteroid, and quickly took him out of retirement and he is still bucking in PBR short rounds today.
As we read the achievements and the attributes that these magnificent animal athletes had, take into consideration that, like any human athlete, they had sick days and soreness issues but they showed up anyway. We can imagine the caliber of heart these bulls had. Traveling all over the country in any kind of weather, for years on end, some of them well into old age. These bulls stood the test of time; they are champions. The very best of the best.
Written By: Kari Payne
Citations
Pbrnow.com
Probullstats.com
Prorodeohalloffame.com