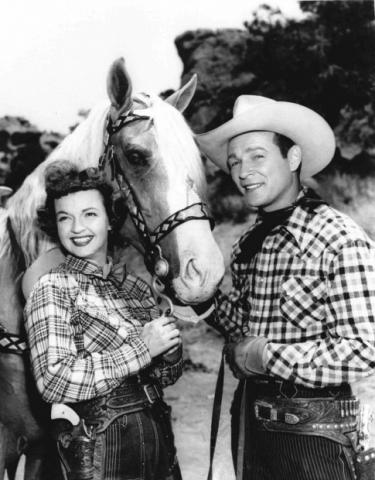 This acting power couple completed 28 films and The Roy Rogers Show together over the course of their marriage and were famously loved by many Americans. They met on the set of The Cowboy and the Senorita and hit it off right away, but they were both married, so love didn't blossom until a couple of years later after Dale and her husband divorced and Roy's wife passed away. Roy and Dale were married on New Year's Eve 1947.
Even though they both had a few failed marriages under their belt, they knew very quickly that their story would be different. According to the book Happy Trails: The Life of Roy Rogers the proposal happened as such: "Late in 1947 they were appearing at the rodeo in Chicago. One evening as they were waiting for the announcer to introduce them, Roy turned to Dale and asked if she was doing anything on New Year's Eve. When Dale said she hadn't planned anything, Roy suggested they get married that day. Before Dale could reply, Roy heard his introduction, and he and Trigger went racing out into the arena. When Dale got to the center of the arena she smiled and accepted Roy's proposal."
The two raised numerous children together and spent their remaining years in California. They had to endure some tragic heartbreaks, but in the midst of it all they clung to each other and gave each other the support they needed.