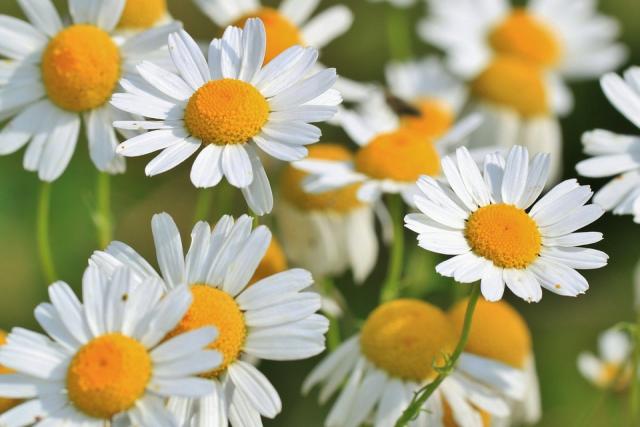 Anthemis Nobilis (often called Roman Chamomile or English Chamomile) is a perennial herb that is cultivated for its health benefits and has been used by humans for over 2,000 years. One of the earliest records of humans drinking chamomile tea is from the early Egyptians, and later the Saxons and Moors. Often the oil is extracted from the flowers of the plant and is used in health products, beauty products, and aromatherapy. The ingredients are derived from the flowers of Anthemis Nobilis, either from an oil extract or powder base, and are used in numerous cosmetics, personal care products, and various skin care products. Oil extraction is performed on the plant after steam distillation and is used in a variety of ways, although the most current use is topically or through aromatherapy. The benefits of chamomile seem to never end when it comes to taking care of your skin and the rest of your body. Researchers are discovering new ways to use chamomile, as well as a number of ways that it helps us live healthier and stronger.
Anthemis Nobilis has calming and anti-bacterial properties. It fights against inflammation of the skin, including inflammation of sunburns and minor scrapes and cuts. Since it has antiseptic qualities, it is able to remove bacteria. Chamomile is often used to treat skin irritations, such as pimples or other acne problems, and reduces the swelling and redness that may occur from such conditions. Other capabilities include removing toxins from the skin and cleaning the sebaceous and eccrine glands when we sweat. Chamomile oil, especially when combined with witch hazel, creates the perfect lotion for treating irritation and itching of the skin from skin disorders such as eczema. Chamomile has the ability to support the skin's nutrition levels and help saturate the skin from within. Steam baths using chamomile tea have shown amazing results when it comes to treating various skin conditions whether they are topical skin issues or those generating from within the epidermis.
Applying chamomile extract topically to the skin will also help reduce inflammation and swelling in muscles and joints. Because of chamomile's ability to calm the activity of inflammation and regulate blood flow, it helps to reduce blood pressure in the veins and the swelling of blood vessels. Chamomile is also used to relieve headaches, sinus pressure and other sinus conditions, toothaches, and various other skin/muscle/bone injuries that may occur.
Roman Chamomile oil and other products are full of calcium, magnesium, and potassium and is a great nourishing aid not only for the skin but also for the bones, muscles, and blood in our bodies. The properties of chamomile are so calming, that the extract is used topically and in aromatherapy, to reduce nervousness, restlessness, anxiety, insomnia, irritability, and sleep deprivation. Some have even used chamomile as an insect repellant, since its sweet smell and chemical make-up works as a natural deterrent for mosquitos and other bothersome pests. Chamomile has also been highly regarded as an effective treatment for indigestion and other gastrointestinal conditions. Chamomile can eliminate infections inside the stomach, as well as rid the intestines and stomach from various worms. It is also used often in hair products that remove mites and lice from the scalp.
References
Bown, D. 2000. Chamomile (Herb Library)
Maud Grieve. "A Modern Herbal" Harcourt, (1931) The Greeks named it 'ground-apple' - kamai (on the ground) and melon (an apple), the origin of the name Chamomile. The Spanish name Manzanilla, means little apple.
Buckle J. Use of aromatherapy as a complementary treatment for chronic pain. Altern Ther Health Med 1999;5:42-51
Brown, D.J. & Dattner, A.M. 1998. Phytotherapeutic Approaches to Common Dermatologic Conditions. Arch Dermatol, Vol 134, 1401-1404.
Leung AY, Foster S. Encyclopedia of Common Natural Ingredients Used in Food, Drugs and Cosmetics. 2nd ed. New York, NY: John Wiley & Sons, 1996.