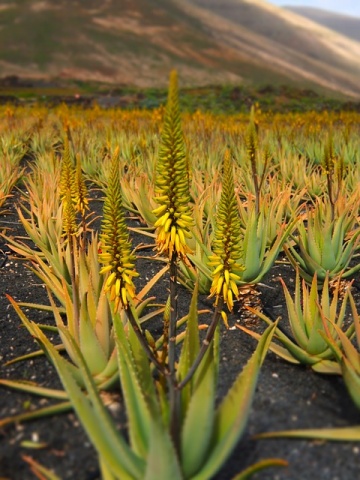 Aloe Vera is one of Nature's Ingredients and when it is used topically it has many benefits for your body, especially if you are in need of some relief.
The Aloe Vera plant is a member of the Aloaceae family of plants, a family that contains a variety of benefits for health and therapeutic functions. This wonder-plant has been used for centuries as a medicine for natives of North America, South Africa, Europe, and several other places. There are records of the Egyptians drawing hieroglyphics of Aloe Vera plants on the walls of certain temples and several cultures even elevated the plant to a 'god-like' status. The plant even earned the name "Plant of Immortality."
Here are 10 reasons you should use Aloe Vera topically:
#1) Rich in Vitamins and Minerals
Aloe Vera is naturally rich in many vitamins that help aid pain relief, minimize inflammation, and improve circulation. Some of these vitamins include Vitamin B1, B2, B3, B6, C, B9, and A.
Calcium, Zinc, Copper, Iron, Potassium, and Magnesium are just a few of the many minerals found in Aloe Vera. Each of these minerals plays an important role in our bodies and aids in pain relief.
Glucosamine is also naturally found in Aloe Vera. Glucosamine is an amino sugar that aids in the relief of joint pain and stiffness. Our body produces this naturally, but it can become depleted, causing us to experience stiffness and pain. Since Aloe Vera contains this nutrient, the skin absorbs what it needs and delivers it to the areas that need it.
#2) Maintains Joint and Muscle Health
Aloe Vera promotes cell growth in muscles and joints, works as an anti-inflammatory substance, regulates proper cell function for healthy muscles and joints, and relieves muscle and joint pain. For these reasons, Aloe Vera has been shown to help with conditions like rheumatoid arthritis, osteoarthritis, and sore muscles.
#3) Acts As a Natural COX-2 Inhibitor
In 1994, an article written by Dr. Robert Davis was published in the Journal of American Podiatric Association in which he states that, "Aloe Vera contains a natural cyclooxygenase (COX-2) inhibiting effect." NSAIDs are COX-2 inhibitors. Aloe Vera was found to reduce pain, fever, and inflammation for muscles, without causing any harmful effects like COX-2 inhibitor drugs do.
#4) Has Excellent Absorption Properties
Aloe Vera can absorb into 7 layers of the skin and effectively increases the absorption rate of other active constituents, or natural ingredients, maximizing their known benefits. This means if you find a product that combines Aloe Vera with other ingredients containing anti-inflammatory properties you will find an effective product.
#5) Has Anti-Inflammatory Properties
Beta-sitrosterol is an ingredient that is found in Aloe Vera. It naturally reduces the body's response to inflammation, which responds to damage by increasing blood flow to heal and regenerate the area. This seems like a great thing, but it is also what causes the pain and swelling.
Aloe Vera also contains a peptide called Bradykinin. It is an anti-inflammatory mediator that helps blood vessels to dilate, slowing the blood flow to the area and preventing inflammation from taking over, resulting in less pain and swelling. For these reasons, Aloe Vera can effectively reduce the discomfort from arthritis and other forms of joint pain.
#6) Benefits Damaged Tissue
Plant steroids that exist in Aloe Vera regenerate new cells in the body and disperse the damaged tissues with no side effects. Aloe Vera can absorb 7 layers deep into the skin, meaning that it can speed the healing process for deep damage. Studies have confirmed that Aloe Vera contains glucomannans, which are special cell-surface receptors that repair damaged tissue. It also contains plant hormones known as auxins and gibberellins, which accelerate healing by stimulating the cell replication process within the body.
#7) Stimulates Collagen in the Body
Collagen is basically the "glue" that holds our body together. It is a protein substance that the body uses to connect skin cells, maintain elasticity in joints, construct ligaments and tendons, and help build bone density. Collagen is present in joints and acts as a shock absorber within them. Production of collagen comes from fibroblast cells that are found in the thick layer of tissue that resides under the skin. Researchers have found that Aloe gel increases production of human fibroblast cells 6-8 times faster than normal cell reproduction. This means that it can rejuvenate joint degeneration and pain that accompanies Arthritis.
#8) Fights Free Radicals
The antioxidant compounds that are found in Aloe Vera have the capacity of trapping free radicals. Free radicals are molecules that are known for causing many of the conditions that lead us to experience pain.
#9) Has Anti-Microbial Properties
The juice of the Aloe Vera plant contains several chemical components like salicylic acid, cinnamic acid, and urea nitrogen. These components are known to limit the growth of bacteria, fungi, germs, and other microorganisms.
#10) Contains Amino Acids
Aloe Vera contains 8 essential amino acids, one of which is Valine. Valine is used for cell regeneration in muscle tissue. When applied, it can relieve pain in muscles and joints.
Check out our articles and infographics to learn a multitude of ways to start relieving your pain naturally!
At Real Time Pain Relief, we not only care about the quality ingredients that go into each and every one of our products – but also about the people who buy them. We hope this blog, and the articles posted on it, become a valued resource for your own personal journey to better health. We know natural products that reduce your pain at the source are important to you, and for more than 17 years, our Real Time Pain Relief rub-on has been providing fast acting, targeted pain relief with natural ingredients to thousands of satisfied customers. From the useful information on this blog to our high-quality natural products, we hope you become one of the thousands of customers telling us they "Enjoy Living Again!"
 
 Sources for this post: