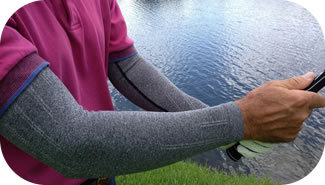 If you are suffering from muscle strain one of the best things you can do is wear a compression glove or sleeve (depending on where the strained muscle is located). Studies show that compression gear has the ability to stabilize the muscles and prevent them from absorbing excess amounts of shock or "vibrations" that occur from everyday movement.
This is just one of our "6 Ways to Reduce Pain from Muscle Strain" that we compiled in order to help you find natural ways to relieve your pain. Compression wear can be found easily in most department or athletic stores, and most options are very affordable. 
For more details about relieving your pain from muscle strain, (Click Here)
While you're there, you should check out some of our tips!