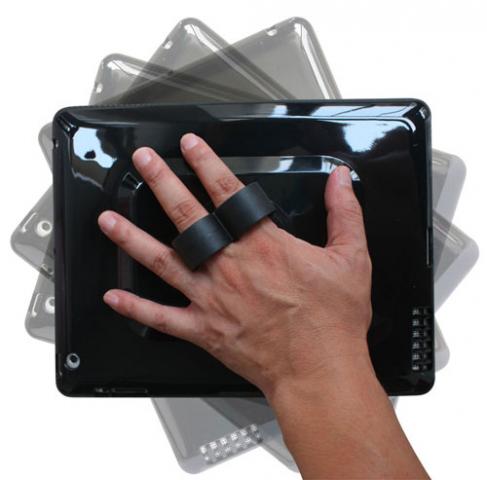 Does iPad time cause you hand pain? Many people have found that their iPad causes cramping and strain in their hands and wrists because of the awkward way their hands remain while holding the device. The other alternative is to lay the iPad down on a table and hunker over it, which is bad for the rest of your body. If this is something you deal with on a regular basis, you should check out the 2Loop iPad Handle.
This gadget is ergonomically designed to give you a handle on your iPad and eliminate the stress that occurs to your wrists from holding onto and gripping the iPad. The finger loops are adjustable so they will fit on fingers you want them to and it also has the capability to swivel 360 degrees, allowing you to change up the angle in order to find the best position for you. This gadget is made for iPad only, but if you own a different device, shop around because many other companies have created a similar design for different types of tablets.
For more information about the Top 10 Ergonomically Designed Gadgets to Relieve Hand Pain, (Click Here)
While you're there check out our top lists and tips!