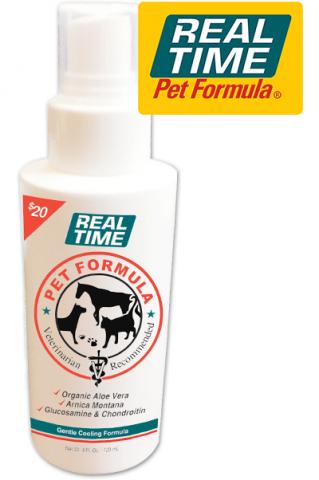 Real Time Pain Relief is proud to announce a new line of product, Real Time Pet Formula.
It provides gentle cooling and is designed to keep Pets and their owners happy. Pet Formula is perfect to apply to your pets just before a walk or play time, and the application is easy! Simply spray on the skin of your furry friend and within minutes your pet will feel the results.
Natures Ingredients, Extraordinary Results
Real Time Pet Formula is made with the same great ingredients that Real Time customers trust.  Using Nature's Ingredients like Arnica, Aloe Vera, Menthol, Glucosamine, and Chondroitin, Pet Formula is designed to deliver Fast, Extraordinary Results and it is free of Harsh Chemicals, Parabens, SLS, and Dye.
Veterinarian Approved and Recommended
Real Time Pet Formula was developed after careful consultation, and in conjunction with, Veterinarians and leaders in the Pet Products Industry. The results? A safe, effective product for pets.
What is in Real Time Pet Formula?