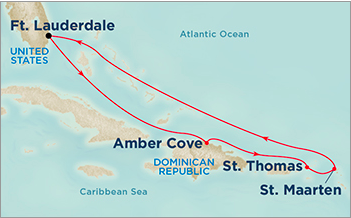 Are you looking for a free vacation? The person with the most, new Sampler sign ups from now until October 31st will win a free 7-day cruise for two!  The deadline for this amazing prize was extended from September 30th so that you have an extra month to build your team. Use the team building tools and resources that are available to you in your back office to successfully convey what it means to join the RTPR Sampler Program.
Click Here for a list of Tools & Resources that are available in the back office. 
Imagine yourself four months from now relaxing in a room with a private balcony overlooking the Caribbean Sea. At each port, enjoying white sand beaches, perfect clear water, colorful reefs, and a rich cultural history as diverse as the breathtaking landscapes. 
Your trip embarks on December 11th from Fort Lauderdale, FL and will take you on an exciting route that allows you to explore the islands of Amber Cove, D.R., St. Thomas, V.I., and St. Maarten. 
Click Here to see more about this amazing cruise.