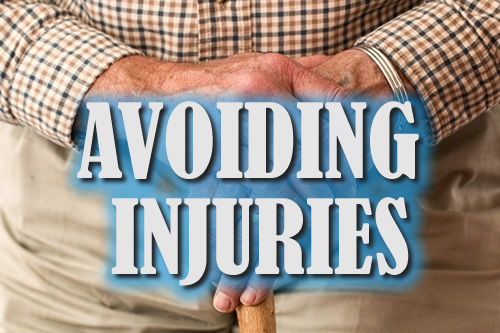 Well known Renaissance man and humanist, Desiderius Erasmus, is famous for his views on prevention of disease being better than the cure. Exactly how to do this seems surrounded in mystery, but everyday life presents opportunities in doing so. According to the Center for Disease Control and Prevention (and the National Hospital Ambulatory Medical Care Survey), more than 100,000 people die from unintentional injuries (don't ask me how they calculate "intentional" injuries), and 1 out of 4 older adults will experience some sort of fall that leads to injury. One out of a thousand of these injuries eventually leads to death.
The Answer?
With a little bit of knowledge and attention, there's a key to dodging these injuries. Proper attention to the way you utilize your muscles and a little insight on your body's kinesthetics may keep you out of harm's way. However, there's more to consider than simply "trying to be careful." Let's take a look at what strategies the best physicians consider crucial in preventing injuries.
Pain is just weakness leaving the body, right? Wrong. Attempting to push yourself during exercise or trying to achieve results the fast and furious way can cause problems for some. Challenging yourself is one thing, but working outside of your limitations is another. This is usually when you are most susceptible to injury. For those who exercise, ignoring the "warning signs" when your body is being pushed too far is one of leading causes of developing an injury.
You're not giving your body the proper rest.
"Gimme a break", and give yourself one while you're at it. Remembering the Kit-Kat jingle in a time of necessity may save you from a world of pain further down the road. Whether or not you adhere to a strict exercise routine, or simply do enough in your daily life to warrant one, it is pertinent to listen to your body when you are running low on energy. Exhaustion plays a major role in causing devastating injuries and soreness. When we are weary, that's when harm is most likely to occur to the body. A rolled ankle, a knee sprain, contorting muscles: all of these hold probability when you are tired. Dehydration and cramping will often follow from not allotting the time to rest, refuel, and reenergize.
Are you strengthening your core muscles? You know, the ones that support your entire body? How can you support the weight of your physicality without giving credit to the muscles that hold them up? Despite your weight or age, your muscles need strengthening (support for support, if you will). According to research published in the Journal of Strength & Conditioning Research, lack of strengthening supportive muscles and stretching can not only lead to support related injuries but an imbalance of muscle groups which are famous for creating long-lasting skeletomuscular conditions and debilitating sudden injuries as well.
(Click Here) to find out several natural ways to avoid injuries.
Be sure to check out our other Top Lists and Tips!
At Real Time Pain Relief, we not only care about the quality ingredients that go into each and every one of our products – but also about the people who buy them. We hope this blog, and the articles posted on it, become a valued resource for your own personal journey to better health. We know natural products that reduce your pain at the source are important to you, and for more than 17 years, our Real Time Pain Relief rub-on has been providing fast acting, targeted pain relief with natural ingredients to thousands of satisfied customers. From the useful information on this blog to our high-quality natural products, we hope you become one of the thousands of customers telling us they "Enjoy Living Again!"