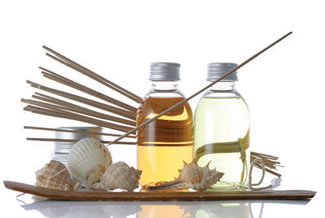 Aromatherapy is one of the least invasive treatment options for battling Fibromyalgia.  While it may be the least researched alternative medicine out there and is not currently supported by the scientific community, it has a wide array of qualitative and testimonial support that is leading many to believe that aromatherapy may be the most overlooked, beneficial treatment method for Fibromyalgia. 
This is just one of our 10 Ways to Relieve Fibromyalgia Pain that we have found to help you ease your pain naturally and affordably. Most of the benefits of aromatherapy arise from its ability to instill different moods, such as calming and relaxing when tense, or energizing effects when feeling fatigued. 
For more details about reducing pain that accompanies Fibromyalgia, (Click Here)
Check out some of our other remedies while you are there!
At Real Time Pain Relief, we not only care about the quality ingredients that go into each and every one of our products – but also about the people who buy them. We hope this blog, and the articles posted on it, will become a valued resource on your own personal journey to better health. We know natural products that reduce your pain at the source are important to you, and our Real Time Pain Relief rub-on has been providing targeted pain relief in minutes with natural ingredients to thousands of satisfied customers for more than 17 years. From the useful information on this blog to our high quality natural products, we hope you become one of the thousands of customers who have told us they "Enjoy Living Again!"