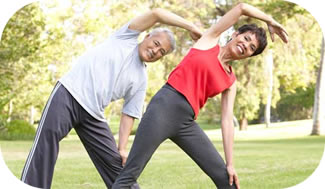 Did you know that exercise can improve pain from Osteoarthritis? While moving around may seem like the last thing you want to do when you're in pain, studies have found that being active is the best way to reduce pain and maintain a healthy weight. Exercises like aerobics, strength training, or flexibility exercises can improve your range of motion as well as your ability to move.
This is just one of our 7 ways to treat Osteoarthritis pain. According to the U.S. Department of Health and Human Services, everyone, including those with arthritis, should get 150 minutes of moderate exercise per week. Exercising does not have to include pricey gym memberships and countless hours of activity. A light walk around the block is easy on the wallet and can benefit your joints.
For more details about relieving pain from Osteoarthritis, (Click Here)
Check out some of our other articles while you are there!
At Real Time Pain Relief, we not only care about the quality ingredients that go into each and every one of our products – but also about the people who buy them. We hope this blog, and the articles posted on it, will become a valued resource for your own personal journey to better health. We know natural products that reduce your pain at the source are important to you, and our Real Time Pain Relief rub-on has been providing targeted pain relief in minutes with natural ingredients to thousands of satisfied customers for more than 17 years. From the useful information on this blog, to our high-quality natural products, we hope you become one of the thousands of customers who have told us they "Enjoy Living Again!"