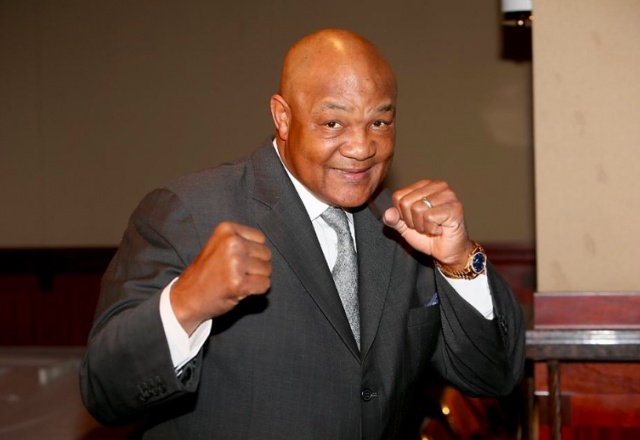 In 1984, three years after he retired from boxing the first time and seven years before he'd return to have perhaps the greatest comeback in the sport's history, George Foreman was given a Horatio Alger Award that honored how he overcame adversity to become a success.
The honor was nice for Foreman, but what really stuck with him that night at the banquet was the speech given by Mary Kay Ash, a fellow Horatio Alger nominee and the woman who founded the cosmetics company that bears her first name. 
As Foreman remembered, she said, "My father told me when I was young that if you learn to sell, you will never starve." That line hit Foreman like a right cross to the face. It was the kind of punch to the psyche that he never forgot. 
"That hit me hard," the 70-year-old Foreman told me last month. "Since that time, I like to think of myself as a sales person."
For certain generations of sports fans, that's all he's ever been. Anybody who's, say, 25 years old or younger right now knows Foreman because of the George Foreman Grill, which has sold hundreds of millions of units since it was introduced in 1994. They also might know him from the Meineke commercials. Or the Pepsi advertisements. Or the ones for Doritos and McDonald's. Or the video games that bear his name, or the Real Time Pain Relief product he's currently promoting. 
They might not know the smiling, jovial Foreman was once the most feared man in boxing during his first career and created one of the sport's most iconic moments in his second act. But through it all, Foreman has never forgotten what Ash said that one night 35 years ago.
"It gets awfully confusing because a lot of kids walk up, and their parents say: 'That's George Foreman. He was the heavyweight champion of the world,'" Foreman said. "But one time, one little kid, when he was about 6 years old, saw me and said, 'That's the Cooking Man.'"
Foreman's salesmanship goes back much further than the George Foreman Grill. After retiring in 1977 with a 45-2 record and a 19-month run as the heavyweight champion, Foreman decided he wanted to be a preacher at his local church. So he was sent to a street corner in Houston and told to start talking. To Foreman, that meant he had to start selling. 
"I had overalls on," Foreman said. "I had cut off my afro, and my mustache was gone. People passed me by and didn't give me a blink. They didn't know who I was, and they didn't care. So I started selling myself, telling people I was part of the 'rope a dope' [his knockout loss to Muhammad Ali, which just passed its 45-year anniversary] and that I had fought Joe Frazier. People would stop for two minutes to listen to me preach. Then they would stop for five minutes. Then they would stop for 15 minutes, and that's when I knew I could sell."
Eventually, Foreman returned to boxing after losing his $5 million nest egg on bad investments and nearly becoming homeless. But his salesman job was just beginning. He was 38 years old and out of shape. But he said he wanted to win another heavyweight championship. He had to convince the buying public it could really happen.
He lost a title shot to Evander Holyfield in 1991 and then fell to Tommy Morrison two years later. But his pleasant personality (and yes, his salesmanship) persuaded HBO to approve him as an opponent for heavyweight champion Michael Moorer in 1994. Foreman, then 45 years old, wasn't expected to beat Moorer, but he was expected to draw ratings.
Instead, he made one of the most memorable moments in boxing history, thanks in large part to Jim Lampley's call of "It happened! It happened!"
Then, as Foreman said, Madison Avenue took notice.
"They're calling me day and night. I was selling myself so successfully that they said, 'Let him sell our stuff,'" Foreman said, adding: "These people came to me and said they wanted to go in on a joint venture with me for the grill. I didn't have any idea it would sell. Next thing you know, I had sold 500. Then 5,000. Then we sold 5 million of those things. If I told you that I could see that coming, I'd be lying."
In part, it's because, as he explained in his autobiography Knockout Entrepreneur, he had to shed the tough-guy image that had surrounded him for decades. He wanted to show people that he smiled, that he loved people, that people didn't have to fear him anymore, that they could trust him. 
It worked. He might have been a monster in the 1970s, but in the decades since, he's been like your favorite grandfather who also knows exactly what you need in your kitchen (Doritos!), in your car (a Meineke muffler!) and in your closet (clothes from Casual Male Big & Tall!). But his biggest moneymaker came from the George Foreman Grill; he once said he made as much as $8 million per month from his share of the profits. 
The George Foreman Grill probably wouldn't have existed if Foreman hadn't made his boxing comeback—and if he hadn't intently listened to the advice given by Mary Kay many years ago. 
"When I came back to boxing, I had to sell a middle-aged man who could become heavyweight champion of the world," Foreman said. "Nobody was buying it. But I kept selling it."
He hasn't stopped since.
Click Here to read this article interview of boxer and entrepreneur George Foreman by Josh Katzowitz on The Forbes Magazine!