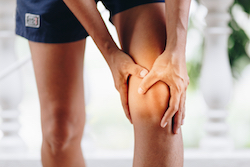 Dealing with runner's knee? Runner's knee is a common injury that can interfere with everyday activities. Patellofemoral pain syndrome is the medical name for runner's knee, and it involves pain in the front of the knee or the kneecap. Although it commonly occurs from athletics, anyone can develop the condition.
We have found 9 effective ways to help you get relief from runner's knee pain.
Real Time Pain Relief

not only cares about the quality ingredients that go into each and every one of our products – but also about the people who buy them. We hope this blog becomes a valued resource for your own personal journey to better health. For 20 years,

Real Time Pain Relief

has provided family safe pain relief made with Nature's Ingredients. From the useful information in our articles to our high-quality products, we hope you feel better and pass it on!