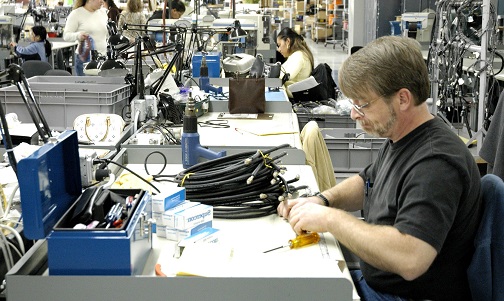 Manufacturing jobs seem to involve a high level of risk when it comes to hand injury or other painful conditions in the hands. Most likely due to the long hours, the repetitiveness, and the amount of physical labor these jobs require. According to the Bureau of Labor Statistics there were nearly 205,000 injuries and illnesses to the wrists/hands/fingers, leading to days away from work in 2006.
Manufacturing work can put a great deal of stress on the body, and it is one of the worst industries to work at when it comes to your hands and wrists. As a person that works in manufacturing, you are probably performing the same tasks hundreds, or even thousands, of times per day, and that repetitive stress really adds up.
For some who work in manufacturing, their job may require them to work on objects that are on a conveyor belt all day, for others, it could be using the same set of tools or operating the same piece of machinery for hours. In some cases, it might be the constant handling and assembling of parts. Whatever it may be, the years of performing these tasks can easily lead to significant pain in the hands or wrists.
As with any job, finding time to rest will help, but in manufacturing, this time is often in short supply. There are ways to help prevent some of the risks that come to our hands from manufacturing jobs, and can be easily done if only remembered. If you spend long parts of your day gripping tools, handles, or turning knobs, you can lower your risk of pain or injury by wearing the proper gloves and learning how "grip properly." It may seem like a no-brainer, but when you do the same repetitive task over and over, it makes a big difference in the way you grasp tools and how you work with them.
Another good tip for manufacturing workers is to try to wear a brace on the wrists or even the hands. As long as they do not get in the way of the work, the restricted mobility can save the joints and tendons. If the problem gets severe, then you may need to see a doctor. The doctor may be able to prescribe therapy that can protect the hands from injury and restore movement.
For more information on jobs that can lead to hand pain, (Click Here)
While you're there check out our other top lists and tips!
At Real Time Pain Relief, we not only care about the quality ingredients that go into each and every one of our products – but also about the people who buy them. We hope this blog, and the articles posted on it, become a valued resource for your own personal journey to better health. We know natural products that reduce your pain at the source are important to you, and for more than 17 years, our Real Time Pain Relief rub-on has been providing fast acting, targeted pain relief with natural ingredients to thousands of satisfied customers. From the useful information on this blog to our high-quality natural products, we hope you become one of the thousands of customers telling us they "Enjoy Living Again!"