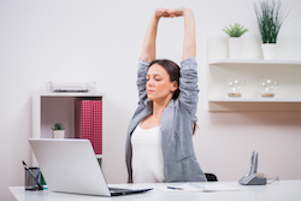 Did you know that flexibility exercises can help reduce pain and stiffness? We have found 5 stretches to improve flexibility in the comfort of your own home.
It is often believed that exercise causes pain, but actually the issue of pain is often rooted in a lack of flexibility. Flexibility is about the mobility of joints and the muscles' ability to move freely around the joints, giving them the ability to achieve their full range of motion. If we lack this essential tool of flexibility, it can lead to compromised body positions and posture over time, resulting in pain and stiffness. 
What if we could combat this stiffness and reduce pain just by stretching every day? Well, you can! 
Perry Fine, MD, a board member at the American Pain Foundation explains that exercise helps to reduce one's perception of pain and overcome limited mobility and functioning. 
You can work on improving your flexibility in the comfort of your own home! Here are 5 stretches that can help you improve your flexibility. 
Need alternative ways to get pain relief without taking pills? (Click Here) to learn more! 
Check out our articles and infographics to learn a multitude of ways to start relieving your pain naturally!
Real Time Pain Relief not only cares about the quality ingredients that go into each and every one of our products – but also about the people who buy them. We hope this blog becomes a valued resource for your own personal journey to better health. For 20 years, Real Time Pain Relief has provided family safe pain relief made with Nature's Ingredients. From the useful information in our articles to our high-quality products, we hope you feel better and pass it on!