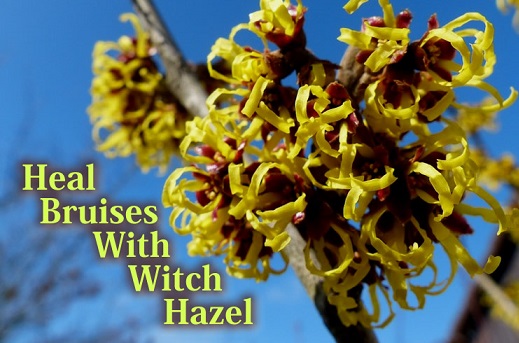 They're painful, they're ugly; they're bruises. We've all had one, and some of us are more prone than others. A bruise appears when something has hit the surface of the skin hard enough to damage the blood vessels underneath. When this happens, the vessels start to throb and leak, leaving a discolored mark on your skin. Depending on how thick your skin is (literally), you may be more susceptible to bruising than others. That's the bad news. The good news is that there is a natural, safe, and effective way to get rid of bruises as fast as possible: Witch Hazel. This ingredient uses a multi-faceted approach for healing bruises, making it one of the most efficient, natural products for reducing bruising that you can use. We take a look at what makes Witch Hazel so special and why no medicine cabinet should be without it.
Witch Hazel is known as a Vulnerary, which means that it seals off slow leaks in the blood vessels and helps with drainage of lymphatic fluid from the damaged area. This helps reduce swelling and is most effective if applied directly after the injury occurs. Witch Hazel also improves blood circulation. This means that new blood is pumped to the damaged area, carrying oxygen and nutrients to help speed up the healing process.
Witch Hazel is also a natural astringent. An astringent is any substance that causes the contraction of the body tissue, protecting the skin and reducing bleeding. This helps the bruise heal faster and heal the damage underneath the skin. Witch Hazel is more effective if it is applied within an hour after the injury.
Applying Witch Hazel is best done with a cotton ball, swap, or soft cloth. Simply soak the cotton ball in Witch Hazel for a few seconds, and hold the ointment softly against the bruise for a few minutes, to let it soak into the skin's pores.
For More Natural Bruise Healing Remedies (Click Here)
Be sure to check out our other Top Lists and Tips! 
At Real Time Pain Relief, we not only care about the quality ingredients that go into each and every one of our products – but also about the people who buy them. We hope this blog, and the articles posted on it, become a valued resource for your own personal journey to better health. We know natural products that reduce your pain at the source are important to you, and for more than 17 years, our Real Time Pain Relief rub-on has been providing fast acting, targeted pain relief with natural ingredients to thousands of satisfied customers. From the useful information on this blog to our high-quality natural products, we hope you become one of the thousands of customers telling us they "Enjoy Living Again!"