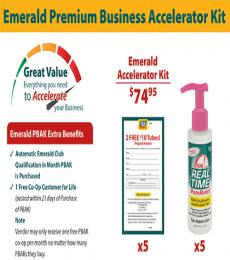 Membership in Emerald Club Basic gives you an incredible opportunity to build your business and it just takes two things to qualify. You simply need to be of Sampler or Vendor Status & bring in 4 new retail customers in the same month. 
As a member of the Emerald Club Basic, you will have the following benefits available to you.
100% Matching Retail Bonus
Private Emerald Club Training Webinars
Co-Op Delivery Schedule Guarantee 
To make it even easier to qualify, you have the Emerald Premium Business Accelerator Kit available to purchase in your shopping cart now! The Emerald PBAK is designed to help you meet the Retail Customer Requirement portion of this club. 
This package is priced at $74.95 and includes:
 
Automatic Emerald Club Qualification in the month PBAK is purchased.
5 - Prepaid Rebate Cards
5 - 4oz Pink Pump Pain Cream
1 new Co-Op Customer that you will earn life-long commissions on.  
 
Note: Vendors are limited to 1 free PBAK Co-Op Customer per month, regardless of how many packages are purchased. 
 
Click Here to purchase you Emerald PBAK now!