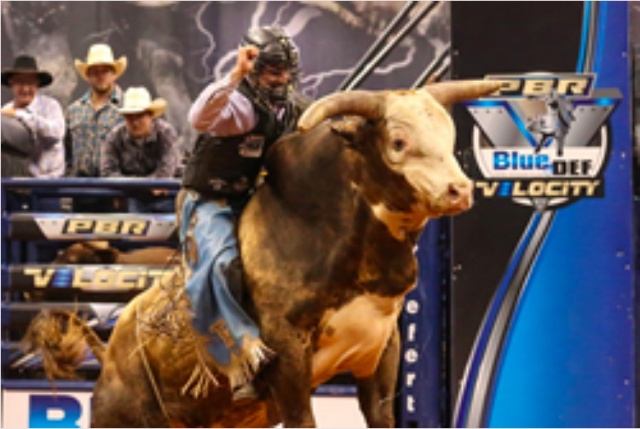 EDMOND, OK (PRWEB) AUGUST 06, 2015
Real Time Pain Relief (RTPR), makers of the popular rub-on pain relief lotion and products, today announced that professional bull rider Tyler Harr has signed an official endorsement deal with the company. Fans, sponsors and media have been drawn to Harr because of his engaging personality, quick wit and classic cowboy good looks. Growing up on an Arkansas farm, Harr was driven to ride bulls his entire life and started riding professionally in the Professional Bull Riders, Inc. in 2008. The energetic Harr quickly rose through the ranks and he is currently 39th in the PBR World Standings, rides on the elite PBR Built Ford Tough Series, is in RFD-TV's American Rodeo and has been in the PBR World Finals. Fans can Like Tyler Harr on Facebook, Follow him on Twitter at @tyler_harr or see his latest pics on Instagram @tylerharr90.
In order to make his dream a reality, Harr trains more than 20 hours each week, making Real Time Pain Relief helpful after riding bulls. As Harr states, "Real Time Pain Relief has truly helped me – especially with managing my sore muscles and pain after working out and riding bulls all week. And I do need relief after working hard – I never back down from a challenge. I'm just the type of person who is addicted to winning, even when the odds are against me. It's been my dream since I was a kid to make it to the top."
The top is definitely in Harr's sight. He is proud to be sponsored by Ariat, Bullhide hats, War Pony Energy, and now Real Time Pain Relief. Most recently, Harr was featured on the cover of Humps N Horns Bull Riding Magazine, the definitive magazine of the sport. This fall, Bullhide Hats is releasing the Tyler Harr Hat Collection for the western rodeo world. Harr was directly involved in the hat design and will update his fans about the release of the new hats on his social media. He's also being featured in a national Ariat advertising campaign this fall.
"Tyler Harr is a great fit for Real Time Pain Relief and he's definitely a bull rider to watch now and in the future," said Real Time Pain Relief Co-Founder Ron Snodgrass. "Our products provide 'Pain Relief as Tough as Cowboys' and Tyler is as tough as they get. He's risen through the bull riding ranks with fierce determination – we're proud to sponsor him," concluded Snodgrass.
Visit http://www.rtpr.com for more information.
About Real Time Pain Relief (RTPR) 
Founded in 1998, Real Time Pain Relief (RTPR) is a family-owned and operated American company with all products made in the USA. The company's topical pain relief lotion, known for being the best-smelling rub-on, provides natural pain relief to people with arthritis, back pain and muscle strains. Over the past 17 years, RTPR has introduced several new products to market based on the specific needs of their customers, including Real Time Active, Real Time Skin Rescue, Real Time Foot Cream, Real Time Hand Cream, convenient travel packs, and most recently a 100% vegan product – Real Time Pain Relief SELECT. Real Time Pain Relief is an FDA registered OTC, pain relief product. Visit http://www.rtpr.com for more information about Real Time Pain Relief.