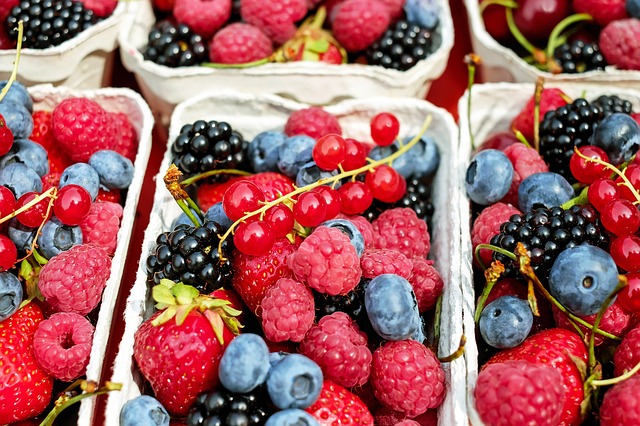 Most people can easily identify what a berry is at the grocery store or on a berry bush. They are delicious little bursts of flavor that grow on bushes and small plants close to the ground. They are usually brightly colored and are often round in shape. There are many varieties of berries such as strawberries, blueberries, raspberries, black raspberries, black currants, red currants, gooseberries, and elderberries. There are other, more obscure varieties, but these are the ones most common in our North American culture.
Berries are traditionally eaten raw, cooked down and preserved with sugar as a jam or jelly to be eaten in the winter months, or baked into pies and other desserts. Eating them raw will pack the most nutritional punch, since cooking them destroys their beneficial qualities. Berries are easy to pick off of their plants making it a fun activity to do with children. Blueberry picking is especially easy for older people since the plant bears fruit right at chest level. And you will get some good fresh air!
How Can They Help?
Berries are packed with natural anthocyanins, which are the chemical components that give berries their intense color. This natural chemical is helpful because it cleans out the damaging free-radical molecules that can cause inflammation and pain. Berries are so packed with this beneficial natural chemical that they out-perform all other fruits and vegetables in their ability to clean out free-radicals. Even more powerful than broccoli! This should come as a relief to most people since berries are so delicious!
Berries should be eaten by people suffering from conditions such as fibromyalgia, arthritis, back pain, Runner's Knee, Lupus, Gout, or while recovering from an injury because they can help to relieve the pain and inflammation associated with these conditions.