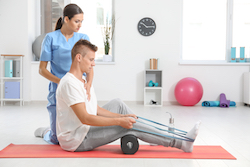 Are you dealing with a recent injury? It can be a trying time period, especially when you can think of a number of other things you would rather be doing. But, did you know that taking the proper steps and giving yourself the rest you need can help you have an optimal recovery?  
Since injuries can happen to anyone at the least expected time, it is helpful to know what should know to have a proper recovery. Proper measures for recovery can even help decrease your chances of dealing with recurring aches and pain, or re-injury.
We have compiled a quick and easy-reading article about everything you need to know when recovering from an injury yourself, and also when helping a family member or close friend recover.