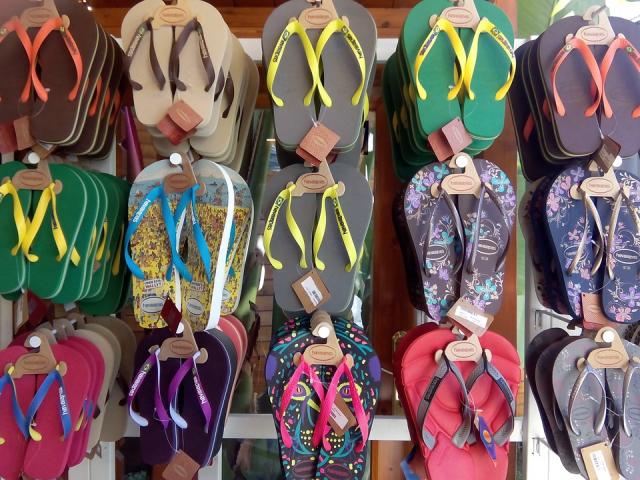 Are you an avid flip flop wearer? Me too. It is not surprising since they are extremely convenient, reasonably priced, lightweight, and keep your feet cool. Despite this list of pros, flip flops have a list of cons as well. So much so that it may just make it hard to wear those flip flops very much anymore. Wearing flip flops as your main shoe can increase your risk of developing plantar fasciitis, tendonitis, stress fractures, hammertoe, bunions, or ankle injuries because they do not provide your feet with the support that they need.
This is just one of the shoes we discuss in our article "What to Know Before Purchasing New Shoes: A Guide to Avoid Foot Pain."  The lack of support that flip flops have also causes you to change the way you walk, leading to pain in your knees, hips, and low back. One study found that someone who wears flip flops shortens their stride and hits their heels to the ground with less vertical force. Another downfall that flip flops have is that strap between your toes. It causes you to grip with your toes in an unnatural way in order to keep your flip flops from falling off your feet. With all this being said, it would never hurt to have your flip flops for those quick trips like going to the gym or checking the mail box, but wearing them as your main shoes is where the problems seem to occur.
For more details about other shoes that are commonly worn, (Click Here)
Check out some of our other articles while you are there!
At Real Time Pain Relief, we not only care about the quality ingredients that go into each and every one of our products – but also about the people who buy them. We hope this blog, and the articles posted on it, will become a valued resource for your own personal journey to better health. We know natural products that reduce your pain at the source are important to you, and our Real Time Pain Relief rub-on has been providing targeted pain relief in minutes with natural ingredients to thousands of satisfied customers for more than 17 years. From the useful information on this blog to our high-quality natural products, we hope you become one of the thousands of customers who have told us they "Enjoy Living Again!"