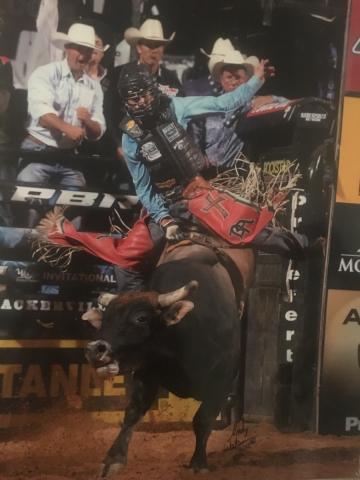 Brant Atwood grew up in the town of Pampa, TX, where oil, cattle, and grain contribute to most of the town's economy. One can imagine how easy it was for a young boy, who watched his two older cousins traveling and making new friends in the field of bull riding, to be persuaded into loading up and hitting the rodeo trail. It was 1997, and at 11 years old, Atwood started riding bulls at a small junior rodeo series put on by rancher and stock contractor Joe Merrick and family. The series was called Rough Riders and it provided a way for kids like Brant Atwood to better themselves in rodeo, and maybe even in life. It was a program that allowed kids to congregate with family and friends and have fun. Now Atwood has a career as a Professional bull rider. When asked how and why he got into riding bulls, Brant unabashedly gave the credit to his cousins, Curtis and Cody Atwood, as the two driving forces that helped him start his bull riding career.  
Atwood has come a long way since 1997; he has accomplished things few bull riders ever have. After working his way up through all of the ranks of Junior Rodeo, Atwood, while still in high school competed in amateur rodeo in associations like the Texas Cowboy Rodeo Association and the New Mexico Rodeo Association. In 2010, he decided to see how well he would do at the professional level. From this writer's perspective, I think it's safe to say he has done alright.
Brant has competed in the 2013 PBR World Finals, won the 2012 All-American PRCA Finals, and was also the Reserve Texas Circuit Finals Champion in 2012. Atwood missed out on the 2016 PBR World Finals by 6 spots. He currently competes in the Real Time Pain Relief Velocity tour and hopes to gain enough points to compete in the 2017 PBR tour.
The Built Ford Tough Tour is the highest level of competition in the PBR. The top 45 bull riders go on tour and compete in televised weekly events for the number one position in bull riding and the chance to compete in the PBR Finals in Las Vegas.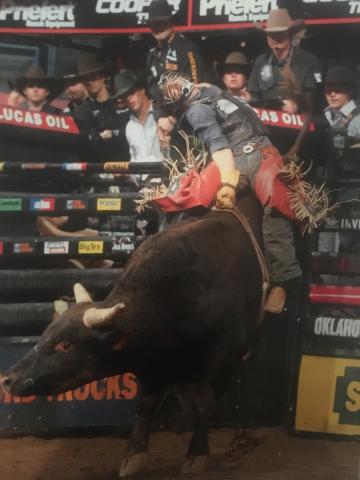 But how do you get on the Built Ford Tough tour?
The PBR has worked hard to build affiliate associations like the Touring Pro Division and the Real Time Pain Relief Velocity Tour. These two minor divisions award a certain number of points to the top finishers in their events to help provide a path for up-and-comers or to help someone who has fallen off the tour for a reason such as an injury, poor riding, etc. This allows them to compete and earn points to gain entrance into the Built Ford Tough division. The Real Time Pain Relief Velocity tour began on November 12th, 2016 and an event is held most weekends until the Finals in November 2017. These events have cowboys running from coast to coast trying to get on tour. The amount of money it takes to get to these events adds up; the cowboys have to pay for gas, plane tickets, and hotel rooms. The Sacrifice? Most of these guys have a wife and children at home whom they only see about 3 or 4 days a week. The schedule is grueling and the dedication must be extreme.
Atwood explained to me, someone who has never been in a professional bull rider's shoes, exactly what it takes to be competitive at the professional level. "The main struggle I have had is staying healthy. As long as you're healthy you're confident," says Atwood. He explained, "Bull Riding takes its toll on your body, I have yet to have a full year where I stayed healthy. That's why I look up to those guys like Luke Snyder and JW Hart for being able to stay healthy for 13 seasons, or however long it took them to get to 200 consecutive events. It's amazing to me that their bodies stood up to that."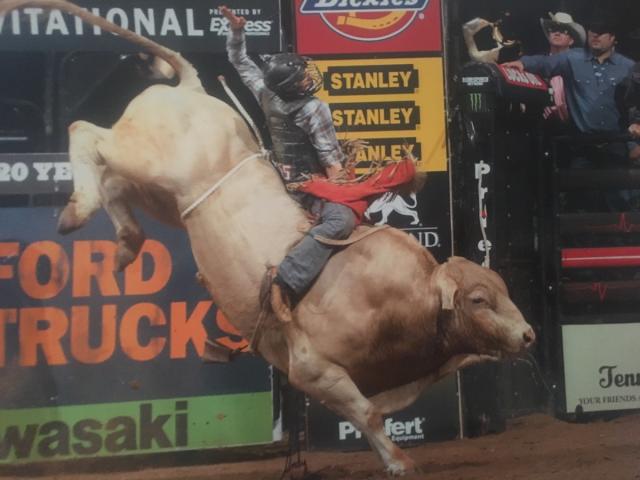 "You have to throw all those little nagging pains away, disregarding them for the moment, and just push through them. But it's hard to do that. Especially when you have been hurting all week, and you drive 20 hours to get to the next bull riding. You're stove up from driving, and your job is to get out and get on two rank bulls like the PBR has."
"You have to leave your family. You have to travel week in and week out. You have to jump on flights. You have to get up at 3:30 to get to the airport. Or, if you're a guy like Reese Cates, for instance, you have to drive three and a half hours to the nearest airport; sometimes he has to leave his family a day early. It's a lot. It takes so much just to be on tour. You have to attend pretty much every qualifying event, which means you are riding in Portland, OR one week and Portland, ME the next. But, once you get there, you are riding for $5,000 each round and $30,000 in the average."
"I feel bull riding is a young man's sport, everyone tells these young kids you don't need to start out in the PBR, you need to work your way up through amateur rodeos, but in my eyes, they need to get in there and get it, and get all the money they can," because, states Atwood, "In 10 years they will be starting their late 20's, early 30's, downhill slide."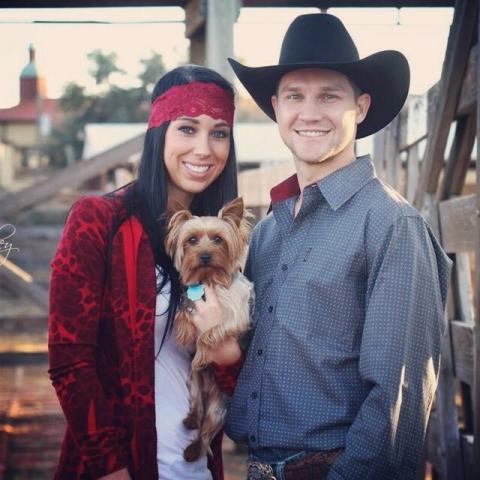 As I was talking to him on his way home from a bull riding practice session that was an hour away from his home in Whitesboro, I asked Atwood to walk us through a normal day for him. He let me in on a small part of his life. Brant said he woke up on Wednesday morning from 3:30 to 5:30am to rock his newborn little boy, Kesler Quade, so that mama could get some rest. Then he started his day with an hour-long workout session at 8:30am, which was followed by his normal 3-mile run. Atwood also said that he watches some kind of bull riding video every day, looking for any way to better himself for his career. He also performs riding drills on a stationary barrel to make sure his fundamentals stay intact.
"It's a job, but I can't look at it that way, I can't make it about the money, I just have to go back to Joe Merrick's house in '97, when I was 11 years old and just doing it because I loved it."-Atwood.
Atwood is the definition of dedication, but in his mind that's what it takes to lead the life that a professional bull rider leads, leaving home 42 of the 52 weekends of the year. It's a full-time job, and after the glitz and glam wear off, you have to be the one who works harder than anyone else to get the job done.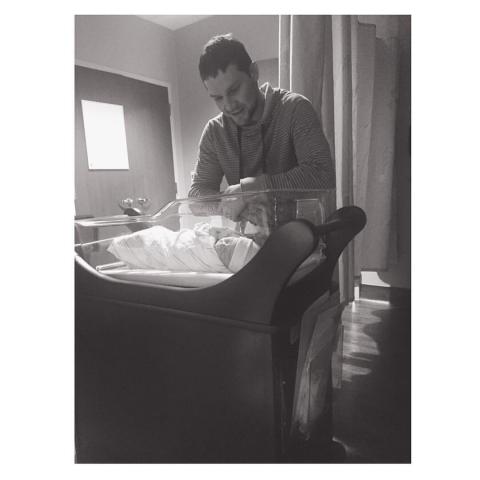 The newest title that Atwood is most proud to hold is father, and before he was blessed with a child, it was husband. His first words in our interview were about his wife and son. Atwood met Kaci, his wife of five years, through mutual rodeo friends eight years ago. Kaci and Brant welcomed their first baby boy, Kesler Quade, on November 10, 2016: "I have to give so much credit to my wife because she has done nothing but work her butt off for the last four years while I have been hurt off and on. She has put her dreams on hold so that I can chase mine," said Atwood.
When asked about his five-year plan Atwood replied, "My goal this year and the next few years is to just stay healthy, just to get on a roll, and ride everything I get on, just to make as much money as I can now, buy a house, and get established. Since I am an owner in the ERA as well, I'm hoping to stay in the rodeo business someway. I don't feel that God has put it in my heart to go and do anything else. I don't think he has let me even think about anything else besides chasing my dream to become a world champion in the PBR, as well as the ERA. I'm going to attend every event in that association this coming year as well. The main thing is to get back on tour in 2017 comfortably so I don't have to chase making the tour, and I want to have two good years, where I'm in the top 5 making $300,000- $400,000 a year, and I want to get out, buy a place -- with everything paid off,-- get some cows, and start a business."
Brant shared other dreams: "I want to help kids. I want to help the younger generation, that's why I'm in the ERA, I want to mainstream rodeo and bull riding. The PBR has done a great job mainstreaming their event, but I want to build the brand of rodeo to make it to where everyone is riding for at least $100,000. Whether you're the 50th or 100th guy in the world, you should still be making some money. There are lots of kids out there that don't have parents who support them. I had a great cousin who I looked up too, that helped me, and now his 8-year-old son looks up to me because I ride in the PBR. I want to help a great friend of mine, Buzz Busby, who is the pastor at Cowkids for Christ. I really want to show these younger kids that you can make a living rodeoing."
When asked what advice he would give to someone who is just starting their bull riding career, Atwood said, "I would tell them just to try hard every time and do whatever it takes. If you have to go day work, work cattle, or work at a feedlot, find somewhere. You have to have money to go. If you have money, you have confidence. So, my biggest piece of advice is to do whatever it takes to chase your dreams, and if you want it bad enough your heart will tell you to go get it. Just work hard to get what you want because nothing is given to you. You got to go get it."
The rodeo ties are far and wide. The number of people that rodeo and bull riding has affected since their humble beginnings is insurmountable. Bull riding gave this Texas Panhandle Kid a lifeline and provided an avenue for him, and others like him, to better themselves in a way that they otherwise might not have been given the chance to. It's a family and there is a whole culture of rodeo people rooting for each other all over the world. It is a bond that is shared through a lifestyle choice that just keeps growing. In this industry, lifelong relationships are formed as children, and Brant Atwood is a great example of someone who grew up in the rodeo world, who persevered through all of life's highs and lows and made a hand.
You can follow Brant on Twitter @BrantAtwood_PBR and @BrantAtwood
Or on his Facebook page @BrantAtwood.
Written By: Kari Payne
About the Author: Kari is a freelance writer from Sayre, OK. She has been a part of the western lifestyle her whole life and has dabbled in many aspects of the ranching, horse racing, rodeo, and bull riding worlds. She loves to use the gifts God gave her, and enjoys the challenges of being the best wife and mother she can be.