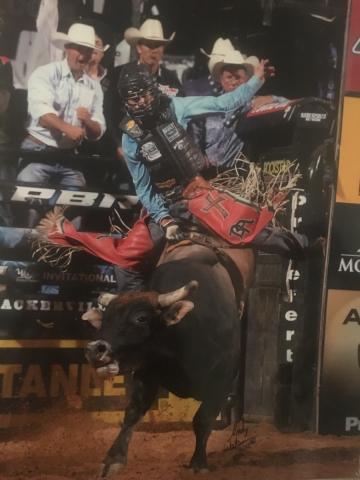 Brant Atwood grew up in the town of Pampa, TX, where oil, cattle, and grain contribute to most of the town's economy. One can imagine how easy it was for a young boy, who watched his two older cousins traveling and making new friends in the field of bull riding, to be persuaded into loading up and hitting the rodeo trail. It was 1997, and at 11 years old, Atwood started riding bulls at a small junior rodeo series put on by rancher and stock contractor Joe Merrick and family. The series was called Rough Riders and it provided a way for kids like Brant Atwood to better themselves in rodeo, and maybe even in life. It was a program that allowed kids to congregate with family and friends and have fun. Now Atwood has a career as a Professional bull rider. When asked how and why he got into riding bulls, Brant unabashedly gave the credit to his cousins, Curtis and Cody Atwood, as the two driving forces that helped him start his bull riding career.  
Atwood has come a long way since 1997; he has accomplished things few bull riders ever have. After working his way up through all of the ranks of Junior Rodeo, Atwood, while still in high school competed in amateur rodeo in associations like the Texas Cowboy Rodeo Association and the New Mexico Rodeo Association. In 2010, he decided to see how well he would do at the professional level. From this writer's perspective, I think it's safe to say he has done alright.
Brant has competed in the 2013 PBR World Finals, won the 2012 All-American PRCA Finals, and was also the Reserve Texas Circuit Finals Champion in 2012. Atwood missed out on the 2016 PBR World Finals by 6 spots. He currently competes in the Real Time Pain Relief Velocity tour and hopes to gain enough points to compete in the 2017 PBR tour.
The Built Ford Tough Tour is the highest level of competition in the PBR. The top 45 bull riders go on tour and compete in televised weekly events for the number one position in bull riding and the chance to compete in the PBR Finals in Las Vegas.
But how do you get on the Built Ford Tough tour?