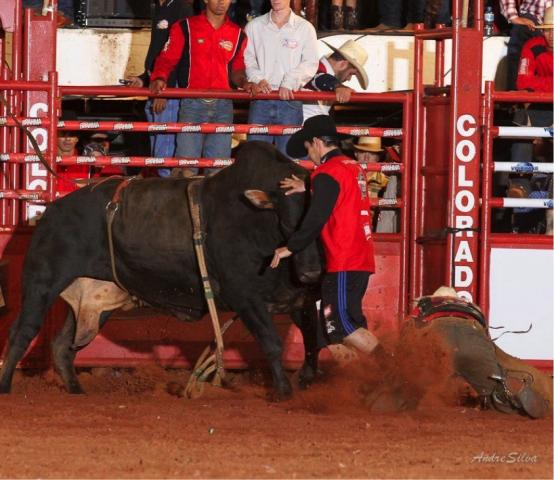 Bullfighting in America has grown to be a very competitive event; gaining notoriety in the sport is a bullfighter's hardest endeavor. Unlike the matador bullfighting in Spain, bullfighting in America is solely based on preventing bull riders from being injured after the eight-second whistle. Getting new bullfighting jobs is challenging because most rodeo committees book their bullfighters and stock contractors years in advance, some committees even book on two-year or five-year contracts. So, getting your foot in the door takes a significant amount of time, promotion, and relationship building.
In November of 2016, Real Time Pain Relief became the head sponsor of the Real Time Pain Relief Velocity Tour, and we will be writing a few articles that highlight people on our team who have inspirational stories to share. Join us as we meet Lucas Teodoro, the first Brazilian bullfighter to take the plunge and come to the United States to follow his dreams of becoming one of the best bullfighters in America and fighting on the Built Ford Tough Tour.
The definition of a trailblazer is a person who marks, or prepares, a trail for other people to follow. Lucas Teodoro is a trailblazer. In 2013, he began making trips to the United States for three months at a time to learn about the country and to see what it would take to be a bullfighter in America. In 2015, he moved permanently to the United States, from his home in Espírito Santo do Pinhal, a city in São Paulo, Brazil. He and his wife, Ingrid Zupo, now live on a ranch in Sunset, TX. Lucas is the first Brazilian bullfighter to prepare a trail through uncharted territory for future bullfighters from Brazil to follow.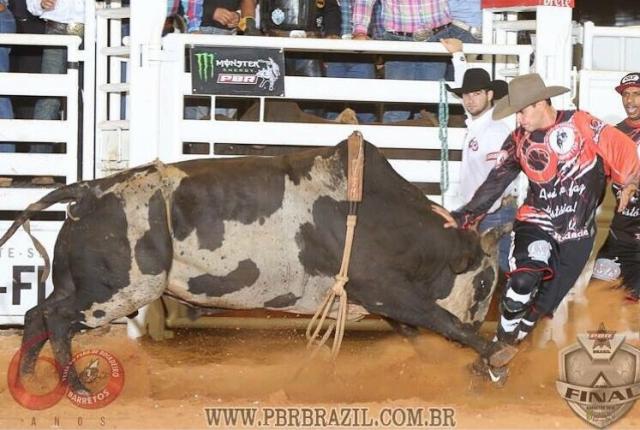 Teodoro has been involved in rodeo since he was a child: "My dad used to be the president of a rodeo committee, and I have an uncle who raised bucking horses. I used to travel to rodeos with him, that's how I first got into rodeo." When asked how he became a bullfighter, he said, "I started riding steers when I was thirteen years old, and I met a guy who was a professional bullfighter. One day he invited me to get in the arena with him, and at the time I tried it just for fun, but today it is my profession."  Bullfighters are one, if not the most important, aspect of a bull rider's safety in the arena. Not only do they provide safety, but for many bull riders they also provide confidence. A good bullfighter gives a rider peace of mind, and allows them to focus solely on his ride, not worrying about what happens after the eight-second ride. I have met several bull riders, who would never put themselves in a bullfighter's shoes, but Teodoro wouldn't want to be in their shoes either: "Before I wanted to be a bullfighter, I wanted to be a bull rider, but after I started fighting bulls, now I am kind of scared to ride a bull, I don't think I would be able to do that. I always tell people I am scared to ride a bull."  
Teodoro is no newbie; for the last six years, he has been fighting bulls for PBR Brazil. As we have seen from the last several World Championship titles, the country of Brazil produces some of the best bull riders in the world, so being voted as one of the top bullfighters in Brazil is not a feat to be taken lightly. In addition to PBR Brazil, Teodoro has been fighting bulls for the last several years in Festa do Peão in Barretos, Brazil, in what is reportedly the 2nd largest rodeo in the world. This Barretos is a huge 10-day celebration of cowboy culture. Organizers have estimated that over 900,000 people attend the celebration each year. Fighting in this event has been influential in giving Teodoro his title as one of the best bullfighters in Brazil.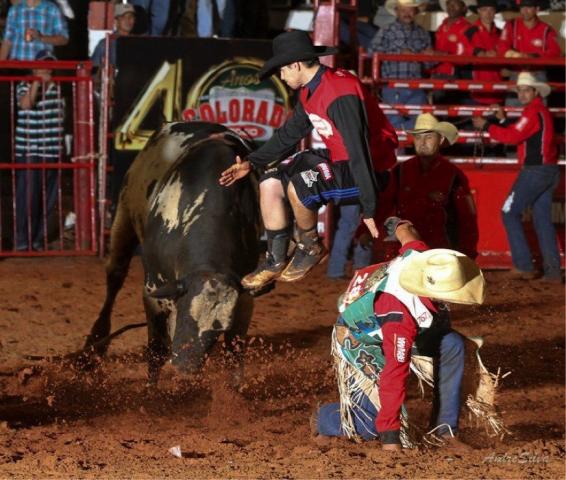 Teodoro explains to us the difficulties of getting bullfighting gigs, as well as moving up the bullfighting ranks in America: "Well when a bull rider comes to the United States from Brazil, he probably is riding in the PBR Brazil. So, he probably comes in with some points; and it isn't hard for him to get into the Touring Pros, or the Velocity Tour. All he has to do is ride his bulls and gain enough points to get on the Built Ford Tough Tour." But, bullfighters don't have the opportunity to gain points in order to pave the way for them to move up the bullfighting ladder. Bullfighters have to be given opportunities by someone who is willing to give them a chance. It isn't easy, and the list of bullfighters in America is long. Committees all over the country are filing through many applications and transcripts every year to find bullfighters to participate in their events. Teodoro explains from his point of view why it is difficult for a foreigner to be as successful as bullfighters in America: "I have to be hired from promoters or committees, and they have to trust me. It makes it a little harder for me because they don't know me and they aren't going to hire a Brazilian bullfighter who they know nothing about over an American bullfighter that they know, or have heard about, you know? That's what makes it a little more difficult, because I don't know a lot of people here, but the Brazilian bull riders they help me, they tell promoters about my career in Brazil, and they always spread good words about me."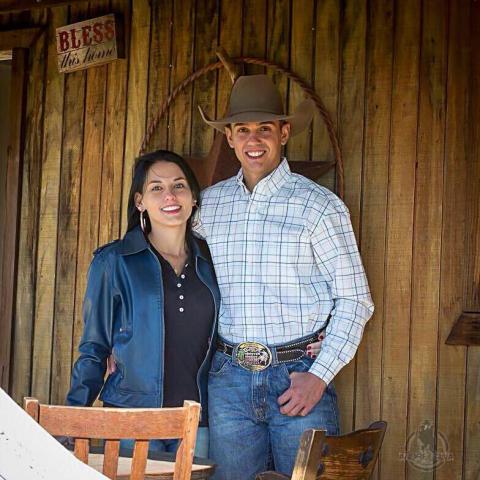 After talking with Teodoro for a short time, I quickly surmised that it was no surprise to hear that people spread good words about him. His journey is a hard one, and it will continue to be challenging until he meets a few more people who are willing to give him a chance, but you wouldn't know that from talking to him. His attitude and love for the sport is contagious, and as the conversation flowed, Lucas bloomed and I couldn't help but hope that all his dreams come true. When I asked Teodoro what has been the hardest part about his journey to the United States, Teodoro stated, "I think the hardest part is when I left everything that I had worked so hard for in Brazil. Before I wanted to be one of the best in Brazil, and I was one of the best there. The hardest thing was leaving everything there and coming here to start again. To be far from my family was hard too, my wife just moved here, so I stayed here for two years by myself. That was the hardest part." Imagine the sacrifice of leaving every loved one you had ever known, and moving alone, across the world, to follow a dream that may or may not come true. Lucas Teodoro is definitely a trailblazer.
Teodoro showed me that being a bullfighter isn't the only thing he is passionate about. It didn't take long to see that he was a God fearing, family-loving cowboy, who is loved by many. Teodoro is very well spoken, and you can see he has worked exceptionally hard to set the best example for those behind him to follow, an example of work ethic and determination. When asked if he felt that being fluent in English was important to be successful in America, he responded with, "When I decided to come to the United States, I started to study English when I was 17 years old. I had private lessons in Brazil, and had six years of training before I came here. I think that it helps a lot. I knew it wouldn't be easy for me to come here and get a job. If I didn't speak English it would be impossible because I have to work with another bullfighter inside the arena; I need to talk and communicate with them. I am still learning and I go to school once a week here in the United States and try to get better."
Bullfighters are lifesavers. The job requires them to lay their bodies on the line to protect someone else's. For Teodoro, he does this every night he can and more than likely for someone he has never even met. When asked what motivates him to be a bullfighter, Teodoro stated, "Well I think the love for the sport of bull riding, sure I do it for the money, but I love to do it, I love to fight bulls, and to be able to save the cowboys, and help them. Being inside the arena, and doing what I love to do, and the dream to be on the Built Ford Tough level is the reason I came here to do my best, and chase my dreams."
I wrapped up my conversation with Teodoro by asking him, "If you could give someone a hand up, or a word of advice, what would you tell someone who is just starting their career?" He answered, "I would tell them just to work hard and believe in themselves, you know? Always believe that it's possible to do everything they want to do. Just be with God and Jesus, it's the only way we are able to make it. To work every day, to believe in their selves and Jesus Christ, and everything they want is going to happen."
You can follow Lucas on Facebook and Instagram @Lucasbullfighter
You can also follow our Real Time Pain Relief Cowboys page on Facebook, or find us on Instagram.
Written By: Kari Payne
Kari is a freelance writer from Sayre, OK. She has been a part of the western lifestyle her whole life, and has dabbled in many aspects of the ranching, horse racing, rodeo, and bull riding worlds. She loves to use the gifts God gave her, and enjoys the challenges of being the best wife and mother she can be.
 
Photo Credit: Andre Silva, you can follow him on facebook