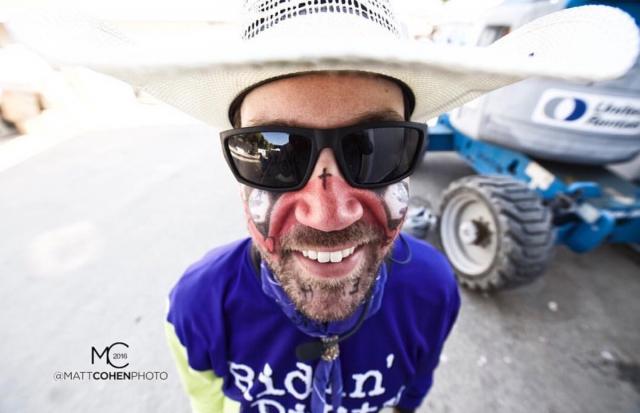 Real Time Pain Relief would like to introduce our next team member, Matt Merritt. Unlike the previously showcased team members, who dabbled in the more dangerous, adrenaline rush side of the rodeo industry, Merritt is an entertainer. Most commonly mislabeled (not without some credibility) as a Rodeo Clown. Oxford Dictionary defines the term Rodeo Clown as a person whose job is to distract the bull from the rider who has been unseated in a bull riding event, or to provide comic entertainment for an audience between events. This definition was absolutely correct in earlier years of rodeo but in the 21st century of rodeo we have separated these jobs and given them two different job titles that each one respectfully deserves. Now we have bullfighters and entertainers. A bullfighter is someone who works to keep the bull riders out of harm's way. A rodeo entertainer's job is to entertain the crowd during slow times in a performance, and they don't do anything "on purpose" to interfere with the livelihood of the bull riders in any way. You might see the entertainer walking through the crowd in the grandstands picking out the best fan of the night, dancing, telling jokes, doing specialty acts with different props such as cars, fireworks, and trick animals. I've even seen a rodeo entertainer ride a small plane. There is no limit to what these hard working, happy-go-lucky individuals will do to get a good laugh out of people.
Now that we have a better understanding of the actual job title let's talk further about the man behind the can, Matt Merritt.
Merritt has been married to his wife, Bonnie, since 2004, they have two daughters Ruia who is 8 and Etta who is 4. The Merritt's live on a small farm in Olin, NC where they have ducks, pigs, chickens, goats, horses, turkeys, and peacocks. They feel their farm is a wonderful way to show their daughters valuable life lessons.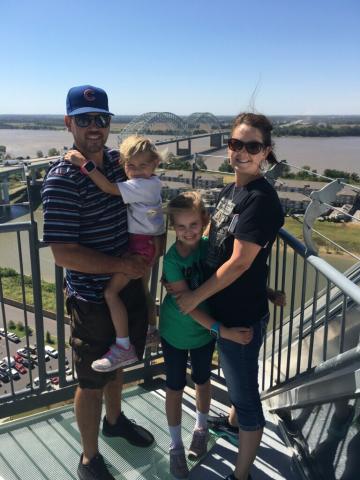 "My wife sells our eggs in local farmer's markets and its wonderful for our kids to learn what it's like to take care of an animal, who then produces a product, that we then sell. So, they are getting to see a good example of how money is exchanged".
Merritt and his wife homeschool their two girls. They feel this is a more practical way for their family to start school since their travel schedule is so extensive during the year. Merritt explained to me that there are times during the year when they are on the road consecutively for a few months at a time, and they feel that homeschooling is a great way to be together as a family and for their children to learn at their own pace. Homeschooling is giving them, in their opinion, the opportunity as parents to detect if their girls have a different learning style, and if so it will be much easier to detect in the small environment of just their family, rather than in a large classroom with 25 other kids and one teacher.
"Last year we left for three months in our RV, and we did our school going down the road with our teacher on the TV, it was amazing. The whole point for us is introducing our kids to different cultures and lifestyles; my kids have already been to 40 states. They wouldn't be able to go, and see everything they have seen if we had them in public school".
Merritt shared with me how it was a natural progression for him to become an entertainer. He feels it was something he was born to do: "I have kind of always been an entertainer at heart. My dad would always sing me songs, he was always rhyming, and replacing the words of all the songs you hear on the radio with his own, always joking, always having fun. It's still something I do to this day. My mom and dad divorced when I was a kid around seven years old, but they lived close to each other, and we all had a great relationship. My family was never involved in the western lifestyle, but rodeo was fairly common in the northwest part of Louisiana where I grew up. There was a rodeo arena down the road from my house that held a weekly practice session for bull riders, and I would go down there to watch and hang out. Then my mom started dating an announcer who would take me to rodeos with him, where I would watch the clown.  I thought that'd be fun, that's a little more down my alley, I could do that, I don't have a problem speaking in public, and I like to try and be funny. So, he helped me get started, I feel like I was kind of made to do this."
Merritt was in Las Vegas, Nevada promoting his business, and hosting a talk show in one of the many tradeshows held during the National Finals Rodeo during our interview. He had a moment of realism that really showcased how gracious and thankful he was to be able to do what he does for a living, and how much pride he takes in his craft. To be able to, if only for a little while, make someone happy.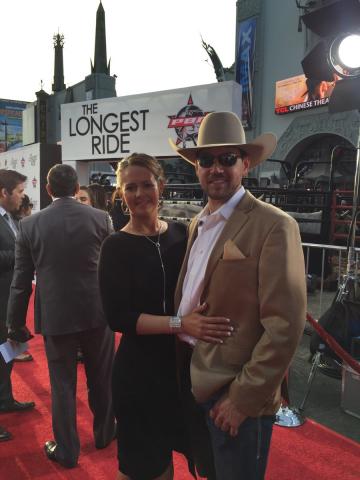 "Here I am standing in Las Vegas hosting a talk show, I have become a personality in the sport, and I have gotten to do so many amazing things in Australia, Canada, and New Zealand for the PBR. It's just funny how it all took off; its who I am, I enjoy it. I feel like that one little second in time when I am telling a joke, or doing something entertaining and I look up into the stands and see everyone laughing, I know they aren't thinking about their bills or their sick uncle. It's kind of cool that I get to kind of take the worries away from people."
As Merritt stated, he has been all over the world entertaining crowds far and wide…3 different countries and every state in America, except Alaska and Hawaii to be exact. When I asked Merritt what event has been his favorite to work? He was hesitant to pick only one.
"So every event has its own thing, it's like its own animal, I'll give you a few moments that have been special to me. There was one event I worked for Ricky West in Fyffe, Alabama; it's a real small town in the middle of nowhere. This guy would have a bull riding in his back yard; he had two bucking chutes and enough seating for 2,500 people but they were about 3 feet away from the arena and they circled all the way around the arena; it just felt like they were the loudest craziest people ever. I did an event in Townsville, Queensland, Australia at the Troy Dunn Invitational, it's another one where everyone circles the whole arena and there is something about that where it just feels like they engulf you; it's a lot of fun."
Rodeo entertainment has grown so much in the last decade, the level of entertainment has really taken off, it takes a great amount of skill to be able to hold people's attention these days for more than a few seconds at a time, with the instant gratification world we have become used to. Visiting with Merritt I learned so much about the obstacles or challenges that one in his profession must overcome, especially since we live in the new and ever-present age of technology.
"It's very challenging to entertain today because people can be entertained with their phone in their hand. You know? If you like baseball, there's an app for that. It's easy to find the things that you like on all the social media's out there like Facebook and twitter. So to entertain people today versus 15 or 20 years ago is totally different, but I accept the challenge. I love the fact that it's that much harder these days. I try to come up with new innovative and original things that people wouldn't expect so that when times are slow during the show and it's my turn, they won't know what to expect so they are more willing to listen."
If you have ever been to a rodeo or PBR event you have seen an entertainer in person, if they were great and added to your time at the event you might find yourself asking, how in the world did that guy come up with that stuff? New material must get hard to come by at some point. After watching an entertainer for any amount of time, you can see that they not only have to be very "quick on their feet" and "witty" but they must also do their research. I was somewhat surprised listening to Merritt explain his preparation before each performance in each new town.
"There are a bunch of different ways I can go about it (getting new material), but the best stuff I come up with is not planned, you know, when there is a guy in the stands wearing a brown shirt and a red hat, and it makes me think of something funny, whatever it is that gets me going. I do prepare for every event. I sort of approach it like a late-night TV host would or a morning talk show. I look up celebrity birthdays, I Wikipedia all the towns that I am in, I look for interesting facts like if there were any famous people born in the town, or was there a reason why the rivers are named what they are… maybe I can find some humor in it. I can't really explain it; I just try and stay on top of it as much as I can."
I asked Merritt to explain to me what it is he loves about his profession that made him choose to be a person who traveled all over the world, year after year, to bull ridings and rodeo's spending nights away from his family and his home. Merritt was full of answers, there was more than one reason he chose, and continues to choose, the life of an entertainer.
"Well there are a lot of things I like about my profession, I am a patriot at heart, I am a Christian guy, I believe that we have had some real rough times in this country over its existence, and being around the kind of people that watch what we do is amazing. I was at an event here just yesterday, Daryle Singletary was singing and he played America the Beautiful as he played a video on the stage show. There was probably 150 people there, they all stood up, and took their hats off like it was the anthem. I was looking around the room thinking man this is awesome! These people are so patriotic, and I just realized these are the kind of people that I work with, these are the kind of people who buy tickets, who come and watch us do what we do, and it's a real honor to perform for these people. All my friends that I work with Richard Jones, Scott Grover, Luke Kaufman, Matt West, Brad Narducci, all these guys who play music and do these things, we all stay in hotels together; we are real friends that can call on each other when things are really bad or really good. I am right where I want to be."    
And it's a good thing Merritt is right where he wants to be because there isn't an end in sight. In the entertaining world, you have a full schedule; it's much like being a highly sought-after actor who is regularly cast in popular movies, and the same goes into the process of choosing entertainers for rodeos. It means people like what they see and will continue to book you at their events. If Merritt's schedule is any indicator, he must be doing something right.
"I currently haven't had a week off in 31 weeks, it looks like in 2017, I have Easter, Thanksgiving, and Christmas off. Then I will do some events during the week and I have The National Western at Denver, they have a PBR for three days during that event. Then later in the year, I will be doing some talk shows at the PBR finals. I would say well over 120 events, I don't even know where yet."
I asked Merritt if he could credit any single person with being a big influence on his career, maybe someone who really helped him learn what people are looking for, someone, or something that challenged him to be better at giving the audience what they desired. Merritt talked about several people who have helped him along the way but one person stood out to him. Gary Croker.
"Well there was a guy named Gary Croker, I would go and visit him all the time. He was an older guy who used to work rodeos back in the 60's. He would just be honest with me and give me lots of advice and if I didn't do good he would tell me; I think a real friend will do that! They tell you when your fly is down, or there is something in your teeth, they won't let you walk around making mistakes just telling you, you look great today. That's what he was to me. He was good to me and always helpful. He has passed away now, so every time I do my makeup I always but a little GC on my face paint, that's for him, as well as my families initials, and my dad who has passed away. All the people on my face have had an influence on me. As far as what's influenced me? A lot of things: working hard and making a living for my family. It's a rewarding job! If you work in a furniture factory and you build a bed, you get to look at that bed and say, oh that looks nice. Every night that I work and do a good job and I put it all out there, when I leave people tell me good job, they're happy and proud of what we just did, and proud they paid money to watch it. That's always driven me. Once I got a taste of that, I didn't want out."
In this industry, people are gone almost every weekend or even months on end. It is worth recognizing who is taking care of things at home when our athletes are away. The farm animals still need to eat, the bills still need to be paid. How do these athletes get things done when they are gone? They don't. Someone else steps up and takes their place for a few days when they are gone. Merritt was all praise when he answered this question, throwing all the admiration on his wife.
"My wife, Bonnie, keeps up with everything at the house. She is wife, mom, dad, ranch hand, farmer, she runs a Laundromat out of our house basically. She shouldn't have to work as much as she does, but that's the hand we have been dealt and she does a great job! I try and help her as much as I can when I am home, and I am not gone as much as you would think anymore. I'll get on an airplane Thursday or Friday, and be back Sunday or Monday so we have 3 or 4 days together during the week, and since we homeschool we are always together for 24 hours a day".
When asked, what goals have been accomplished so far in his career and what goals are left to capture, Merritt was humble and grateful for the opportunities that have been presented to him through his career and excited for the future: "Well I got to work one Built Ford Tough series event last year in Tucson, AZ, which is the highest level in bull riding in my opinion production-wise in western sports. So, I got to work one of those, which was a goal of mine that I always wanted to reach. Going and working overseas was a goal of mine I have been able to reach. But, one goal I hope to accomplish still is getting to work the PBR Finals one day.
Most people who have a career in the rodeo industry still have other hobbies and activities they need to channel; a vacation from the spotlight so to speak. I asked Merritt where we might find him if he wasn't at a rodeo entertaining? Merritt's answer came as a small surprise. Who would think an entertainer who uses public speaking as a way of making a living craves alone time?
"I would be a professional hunter, not like the ones on TV, I mean that would be cool, but I wouldn't want to deal with all those camera people around all the time. I'd just have to find a way to get paid for it. It's weird but if I could do anything I wanted, right now I'm in front of people all the time, but I would want to be in the woods, just by myself."
While doing research on Merritt, it didn't take long to see he is a guy who is passionate about his faith. I feel it would be a shame to write an article introducing a guy, and not tell the world the greater message within the message. As I was visiting with Merritt he was quick to tell me that he feels one of the major reasons rodeo and bull riding is growing is because of the atmosphere that seeps off the industry.
"I'm a Christian guy, I try to live by that as much as I can. I'm not perfect, no one is, no one ever will be. But, it's important to try and I'm around a group of guys that always try to lift me up, and I try to do the same for them. It's something I think a lot of people miss out on, that in their other professions it's pretty cool, that in mine I'm with people who are like-minded. We are lucky, we still get to pray; before all of our events, the announcer leads the entire audience in prayer. I hope we never lose that I think that's a lot of the reason why what we do is working and growing."
Merritt's last word of advice for someone looking to pursue a career in entertaining was to focus on being yourself and having your own style. His message was clear, we all have our own gifts to give and we can make the job harder than it should be by trying to copy someone else: "Be yourself, do not copy people, just go and have fun and let that be contagious."- Merritt.
It's always refreshing to do these interviews. Getting a small glimpse into someone's life reminds you that everyone is looking for his or her place in the world. We all have a choice in who and what we want to be. We all have responsibilities and challenges. Most of us are focused on ourselves, our families, and what we can get done for us, it's a me-me-me world out there, but sometimes you stumble across a person, like Matt Merritt, who spends their whole life blessing other people, not with material things, but by simply making them smile.
Written By: Kari Payne
About the Author: Kari is a freelance writer from Sayre, OK. She has been a part of the western lifestyle her whole life and has dabbled in many aspects of the ranching, horse racing, rodeo, and bull riding worlds. She loves to use the gifts God gave her and enjoys the challenges of being the best wife and mother she can be.