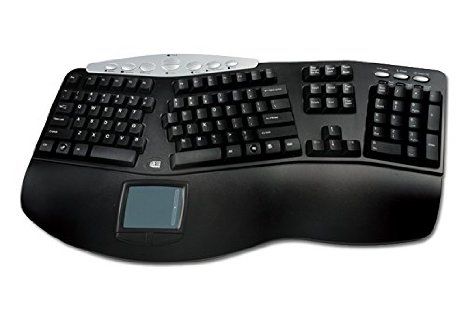 A second great option for a keyboard is the Adesso Tru-Form Pro Contoured Ergonomic Keyboard. Featuring a split keyboard, it is also great for promoting the natural flow of the wrist and fingers, along with some other features that make it great for your arms, wrists and hands.
The Adesso Tru-Form Pro Contoured Ergonomic Keyboard has a built-in wrist support, which encourages optimal blood flow through the wrists and into the hands. Maintaining good circulation in your hands is a key part of ensuring you aren't going to be suffering from pain in your hands in wrists later.
This Ergonomic Keyboard also features a built-in track pad which eliminates the need for a mouse altogether. Opinions seem to be split on whether the track pad is better than the mouse or not, but if you don't use your mouse often, the track pad is a great choice.  
Next, we are going to cover a couple different mouse options if you prefer not to rely solely on a track pad.