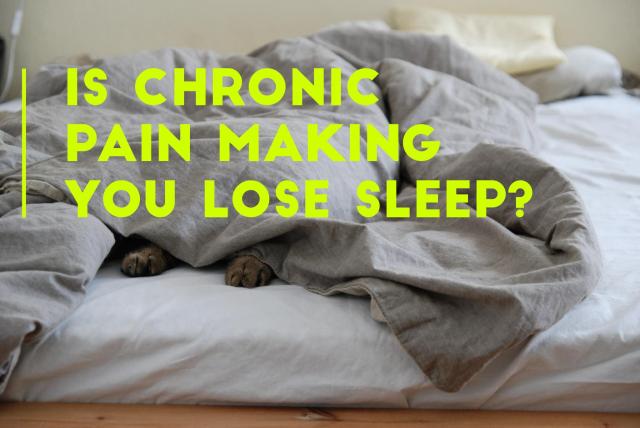 Is chronic pain keeping you from getting peaceful sleep? According to the 2015 Sleep in America Poll, the National Sleep Foundation discovered that 57% of Americans are struggling to get good sleep because of pain.
There are many ways that you can suffer from disturbed sleep. One, you can fall asleep but at some point you will wake up and struggle to get back to sleep. The reason this is not good for you is because it disrupts you from your REM sleep, which is the restorative stage of sleep.
Then there are those who cannot fall asleep no matter how hard they try. They even find that the more they try, the more stressful the situation becomes. If this scenario sounds familiar to you then you know the toll that no sleep takes on your body. It affects your mood, it affects your productivity, it zaps your energy, and takes away any desire to get out and do something...even if that "thing" is something that you absolutely love. You may even notice that it affects your relationships with people you care about. The fact is: when you cannot sleep and get rested, it affects almost every aspect of your life, especially your recovery process. Studies find that sleep is one of the basic needs for the body; it is just as important for you as eating and being active.
So you may be wondering if there is anything that you can do to try to get a good night's rest with chronic pain. Experts say that it can be beneficial to turn the electronics off about an hour before you plan to go to bed. This is because the glowing lights from the screen affect your brain's ability to release melatonin, a natural chemical that the body produces to make you feel drowsy. Some people don't like doing this because watching television or playing electronic games helps them keep their mind off of their pain. However, if you are one of these people, you don't have to just sit in silence for one hour while you prepare for bed. There are alternatives to watching tv.
Some researchers say that engaging in a craft or hobby before bed is a way to keep your mind off of the pain and also start doing something that makes you happy. When you can engage in something that makes you happy, it can help you release stress and also relax.
Another option is to read a book, work a puzzle, etc. Activities such as this engage your brain, but don't produce that glowing light that affects your melatonin production.
Also, finding a topical pain reliever lotion that you can apply to the areas that cause you pain during your wind down time may help.  If pain is what keeps you from getting the rest that your body needs, then you need something that is going to help you forget about your pain so that you can achieve restorative sleep and start recovering from your chronic pain. Topical pain relievers provide relief from pain, relax your muscles, and ease tension. One of the best things about topical pain relievers is that you don't have the concerns of negative effects like you do if you take painkillers for relief.
You can find many different formulations but look for a topical pain reliever that includes ingredients like Aloe Vera, Menthol, Capsicum, Arnica, Emu Oil, Witch Hazel, Willow Bark, MSM, Chondroitin, and so many more. All of these are some of well-known ingredients for easing pain and inflammation.
For more information about Ways to Manage Chronic Pain, (Click Here)
If you haven't tried Real Time Pain Relief yet, but you are interested, you can get a FREE $10 tube with your first purchase. For Details, (Click Here)
You can check out our articles and tips to learn a multitude of ways to start relieving your pain naturally!
At Real Time Pain Relief, we not only care about the quality ingredients that go into each and every one of our products – but also about the people who buy them. We hope this blog, and the articles posted on it, become a valued resource for your own personal journey to better health. We know natural products that reduce your pain at the source are important to you, and for more than 17 years, our Real Time Pain Relief rub-on has been providing fast acting, targeted pain relief with natural ingredients to thousands of satisfied customers. From the useful information on this blog to our high-quality natural products, we hope you become one of the thousands of customers telling us they "Enjoy Living Again!"