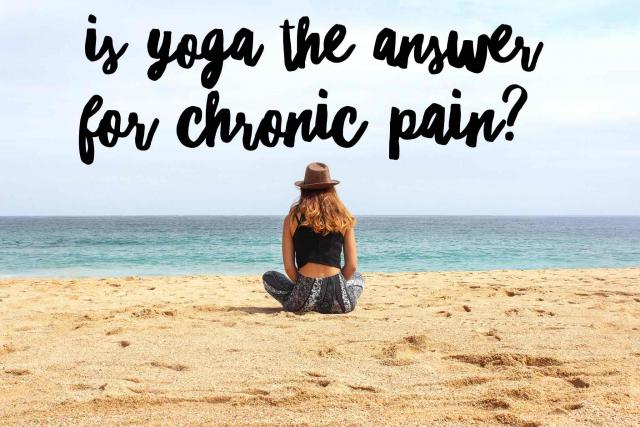 Everyone seems to be doing yoga these days. This is because there are many health benefits from consistent yoga practice, especially for people suffering with chronic pain. Studies have found that yoga can prevent the changes that chronic pain causes in the structure of the brain, and which has been linked to depression, anxiety, and brain fog.
Brain images have revealed to researchers that chronic pain changes the volume of gray matter and disturbs the connections of the white matter. According to new brain images, yoga actually bulks up gray matter and strengthens the connections of white matter. Catherine Bushnell, PhD, a director of the National Center for Complementary and Integrative Health, said, "Practicing yoga has the opposite effect on the brain as does chronic pain." Bushnell also reported that ongoing yoga practice can increase levels of pain tolerance, leading to a decrease in chronic pain.
If you are suffering from chronic pain, this is good news for you. Yoga is a gentle exercise that helps you build strength and flexibility. It is also an activity that is widely available. You can find a yoga class in many local communities, gyms, or YMCA organizations. If public classes are not what you are comfortable with, then you can hire a personal trainer, find online classes, or purchase DVDs with instructors.
The other nice thing about yoga is that you do not need expensive equipment. The only thing recommended for yoga practice is a yoga mat to help you keep your grip and hold yourself steady while in your poses. Also, make sure to wear comfortable clothing to practice.
If you are interested in practicing yoga but feel that your pain is holding you back, you should try to find a topical pain reliever to apply beforehand. Topical pain relievers not only give relief from pain but also relax your muscles and ease tension. You can find many different formulations but some good ingredients to see included would be Aloe Vera, Menthol, Capsicum, Arnica, Emu Oil, Witch Hazel, Willow Bark, MSM, Chondroitin, and so many more.
Real Time Pain Relief is a topical pain pain reliever that has been specially formulated with 19 ingredients and designed to give fast, effective, targeted relief from pain.
Just think about how much more you can do in yoga if you have some relief and your muscles are loosened up. Some people even find that the topical pain reliever relaxes them so much so that they are able to stretch a little deeper each time, which is a great way to decrease joint stiffness and pain.
For more information about Ways to Manage Chronic Pain, (Click Here)
You can check out our articles and tips to learn a multitude of ways to start relieving your pain naturally!
If you haven't tried Real Time Pain Relief yet, but you are interested, you can get a FREE $10 tube with your first purchase. For Details, (Click Here)
At Real Time Pain Relief, we not only care about the quality ingredients that go into each and every one of our products – but also about the people who buy them. We hope this blog, and the articles posted on it, become a valued resource for your own personal journey to better health. We know natural products that reduce your pain at the source are important to you, and for more than 17 years, our Real Time Pain Relief rub-on has been providing fast acting, targeted pain relief with natural ingredients to thousands of satisfied customers. From the useful information on this blog to our high-quality natural products, we hope you become one of the thousands of customers telling us they "Enjoy Living Again!"