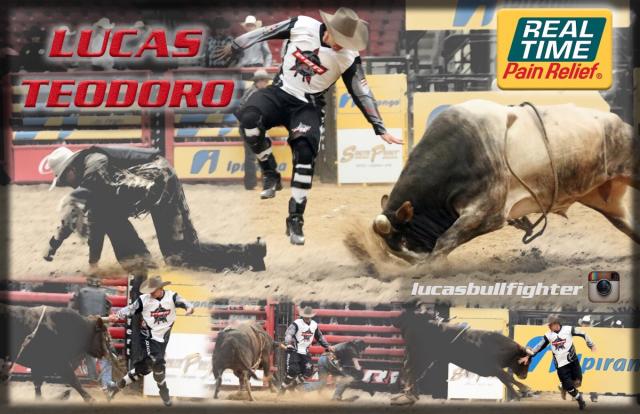 We are incredibly excited to announce our first Real Time Pain Relief Bullfighter!!
Lucas Teodoro - Gauchinho - Professional Bullfighter. Fights bulls professionally for the PBR and PBR Velocity Tour.
With their heroism and fearlessness, Bullfighters keep the sport of Bull Riding going. Lucas Teodoro plays his part every weekend!
Lucas is originally from Brazil, and currently lives in Texas. He is one of the best Bullfighters in the world and is a Brazilian Bullfighting legend. We are thrilled to welcome him to our family!
Follow him on Facebook and Instagram for updates! @Lucasbullfighter
You can also follow our Real Time Pain Relief Cowboys page on Facebook, or find us on Instagram!
Real Time Pain Relief has partnered with the PBR to bring the Real Time Pain Relief Velocity Tour to more cities than ever before! Real Time has also sponsored numerous Bull Riders and other rodeo athletes with the goal of providing pain relief to the world's toughest athletes! We are committed to protecting our athletes, and thus, purchase protective gear and other neccesary equipment for our team of athletes. For us, the health of the athletes is as important as their success. Additionally, we have partnered with the Rider Relief Fund which is dedicated to assisting the riders and other athletes when they are injured and cannot work. Without the Rider Relief Fund, many athletes would not be able to continue participating in the sport, and as a result, we are their national sponsors!
You can check out our articles and tips to learn a multitude of ways to start relieving your pain naturally!
At Real Time Pain Relief, we not only care about the quality ingredients that go into each and every one of our products – but also about the people who buy them. We hope this blog, and the articles posted on it, become a valued resource for your own personal journey to better health. We know natural products that reduce your pain at the source are important to you, and for more than 17 years, our Real Time Pain Relief rub-on has been providing fast acting, targeted pain relief with natural ingredients to thousands of satisfied customers. From the useful information on this blog to our high-quality natural products, we hope you become one of the thousands of customers telling us they "Enjoy Living Again!"