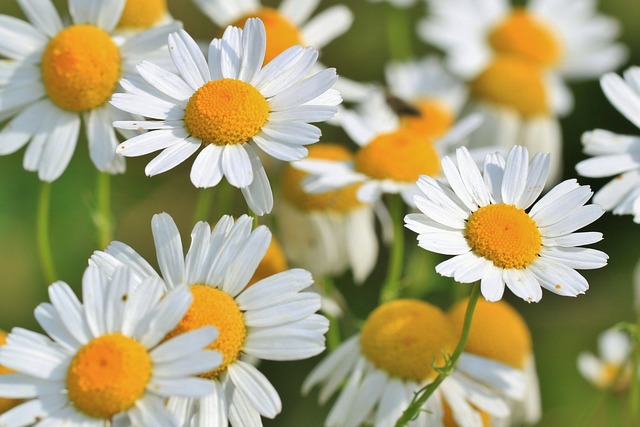 Anthemis Nobilis (often called Roman Chamomile or English Chamomile) is a perennial herb that has been cultivated for its health benefits and used by humans for over 2,000 years. One of the earliest records of humans using chamomile tea is from the early Egyptians, and later the Saxons and Moors. Often the oil is extracted from the flowers of the plant and is used in health products, beauty products, and aromatherapy. Oil extraction is performed on the plant after steam distillation and is used in a variety of ways, although the most current use is topically or through aromatherapy. The benefits of chamomile seem to never end when it comes to taking care of your skin and the rest of your body. Researchers are discovering new ways to use chamomile to help us live healthier and stronger.
Applying chamomile extract topically to the skin will also help reduce inflammation and swelling in muscles and joints. Because of its ability to calm the activity of inflammation and helps to regulate blood flow, it helps to reduce blood pressure in the veins and the swelling of blood vessels. When looking for a topical pain reliever, check to see if it includes Roman Chamomile (or Anthemis Nobilis) because it would be a great addition to any topical analgesic. Chamomile is also used in other areas of the body that are susceptible to pain, such as headaches, sinus pressure and other sinus conditions, toothaches, and various other skin/muscle/bone injuries that may occur.
There are several ailments that can be alleviated due to the calming and antibacterial properties of chamomile. It fights against inflammation of the skin and is great for sunburns, minor scrapes, and cuts. It has antiseptic qualities against bacteria. Chamomile is often used for the treatment of skin irritations, such as pimples or other acne problems, and reduces the swelling and redness that may occur from such conditions. It removes the toxins from the skin and cleans the sebaceous and eccrine glands when we sweat. Chamomile oil, especially when combined with Witch Hazel, creates the perfect blend to treat irritation and itching of the skin from skin disorders such as eczema. Chamomile has the ability to support the skin's nutrition levels and help saturate the skin from within.
Roman Chamomile oil is full of calcium, magnesium, and potassium; it is also a great nourishing aid for the skin, bones, muscles, and blood. The properties of chamomile are so calming that the extract is used to reduce nervousness, restlessness, anxiety, insomnia, irritability, and sleep deprivation; to acheive these results, you can apply it topically or inhale vapors from aromatherapy.
To learn about other Natural Ingredients that Reduce Pain, (Click Here)
You can check out our articles and infographics to learn a multitude of ways to start relieving your pain naturally!
At Real Time Pain Relief, we not only care about the quality ingredients that go into each and every one of our products – but also about the people who buy them. We hope this blog, and the articles posted on it, become a valued resource for your own personal journey to better health. We know natural products that reduce your pain at the source are important to you, and for more than 17 years, our Real Time Pain Relief rub-on has been providing fast acting, targeted pain relief with natural ingredients to thousands of satisfied customers. From the useful information on this blog to our high-quality natural products, we hope you become one of the thousands of customers telling us they "Enjoy Living Again!"