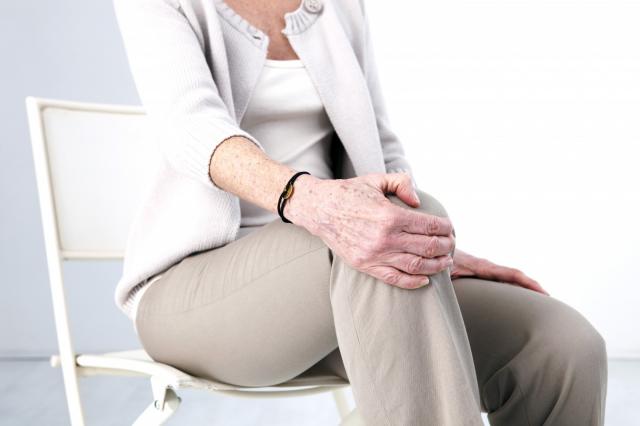 Pain in the joints of the knee can occur for a variety of reasons. Broken down cartilage, osteoarthritis, or a past injury, are all likely culprits of knee pain. So once you have it, what do you do about it? Knee pain is keeping millions of people from living their normal lives, and the pain can be so severely debilitating that it keeps you from walking or running, and can even make it difficult to stand up. Have studies found a solution? Possibly, with two specific supplements: Chondroitin and Glucosamine.
As with all research in supplements, the process is long-term and requires expansive measures to validate the effectiveness of a new medicine. However, with all of the recent studies that have been conducted on Glucosamine and Chondroitin, the outcome is looking more and more positive. In time, researchers may have developed a way to wipe out joint pain in the knee altogether. First, let's take a look at what these supplements really are.
Chondroitin is typically found in our own cartilage and is responsible for retaining water. The supplement is created organically from our bodies and other animals and is typically manufactured in a laboratory setting. Glucosamine is also found in healthy cartilage, often seen in the fluids around the joints. It is constructed from various forms, but the one used by doctors for arthritis and other types of joint pain is Glucosamine Sulfate. Now that you have an idea of what these supplements are, let's take a look at the research supporting them.
Natural Medicines Comprehensive Database (NMCD) has certified Glucosamine under the rating of "likely effective." This may not seem like a big deal, but the NMCD is a highly respected database, with a report published by the National Institute of Health declaring NMCD as "one of the most comprehensive and reliable natural medicine resources available"... "an impressive team of experts." Most studies involving Glucosamine and Chondroitin were conducted with subjects experiencing osteoarthritis in the knee. Not only were the results positive in reducing knee pain, but the conclusion of most of these beginning studies revealed how safe these supplements were, especially with their ability to replace NSAIDs.
The largest study to date with Glucosamine and Chondroitin was conducted in 2006 and the project was labeled the Glucosamine/Chondroitin Arthritis Intervention Trial. The study involved 1,600 subjects who were experiencing osteoarthritis in the knee. The first phase of the study found a significant reduction of pain for those experiencing moderate-severe knee pain. Over the next four years and two phases later, researchers discovered that the two supplements did not reverse the joint damage, but effectively reduced pain in the knee, and was just as effective as the drug Celebrex. This efficacy for pain reduction, coupled with the safety and lack of side effects from Glucosamine and Chondroitin, instantly gave the supplements their credibility in the field of medicine.
A meta-analysis of studies involving the two supplements on treating knee osteoarthritis was performed and revealed in 2003. It reviewed the most credible studies from 1980 to 2002 and their results (published in The Archives of Internal Medicine) were not such a great surprise. They concluded, "our results demonstrated a highly significant efficacy of glucosamine on all outcome, including joint space narrowing." The review shared the same view of efficacy on the supplement Chondroitin.
So what's the final answer? All signs point to a positive outcome for those experiencing joint knee pain and the use of Glucosamine and Chondroitin. The evidence is piling up, and it seems as if researchers, scientists, and physicians are all getting on board with the advocacy of these two miraculous substances. These products can easily be found in topical ointments, and are praised for their effectiveness and safety of use.
For More On Dealing With Knee Pain, (Click Here)
For More About Natural Supplements For Pain, (Click Here)
Check Out Our Other Top Lists and Tips!
At Real Time Pain Relief, we not only care about the quality ingredients that go into each and every one of our products – but also about the people who buy them. We hope this blog, and the articles posted on it, become a valued resource for your own personal journey to better health. We know natural products that reduce your pain at the source are important to you, and for more than 17 years, our Real Time Pain Relief rub-on has been providing fast acting, targeted pain relief with natural ingredients to thousands of satisfied customers. From the useful information on this blog to our high-quality natural products, we hope you become one of the thousands of customers telling us they "Enjoy Living Again!"
References:
Florent Richy, MSc; Olivier Bruyere, MSc; Olivier Ethgen, MSc; Michel Cucherat, MSc, PhD; Yves Henrotin, MSc, PhD; Jean-Yves Reginster, MD, PhD Structural and Symptomatic Efficacy of Glucosamine and Chondroitin in Knee OsteoarthritisA Comprehensive Meta-analysis. July 2003
Sawitzke AD1, Shi H, Finco MF, Dunlop DD, Harris CL, Singer NG, Bradley JD, Silver D, Jackson CG, Lane NE, Oddis CV, Wolfe F, Lisse J, Furst DE, Bingham CO, Reda DJ, Moskowitz RW, Williams HJ, Clegg DO. Clinical efficacy and safety of glucosamine, chondroitin sulphate, their combination, celecoxib or placebo taken to treat osteoarthritis of the knee: 2-year results from GAIT. Ann Rheum Dis. 2010 Aug;69(8):1459-64. doi: 10.1136/ard.2009.120469. Epub 2010 Jun 4.
Daniel O. Clegg, M.D., Domenic J. Reda, Ph.D., Crystal L. Harris, Pharm.D., Marguerite A. Klein, M.S., James R. O'Dell, M.D., Michele M. Hooper, M.D., John D. Bradley, M.D., Clifton O. Bingham, III, M.D., Michael H. Weisman, M.D., Christopher G. Jackson, M.D., Nancy E. Lane, M.D., John J. Cush, M.D., Larry W. Moreland, M.D., H. Ralph Schumacher, Jr., M.D., Chester V. Oddis, M.D., Frederick Wolfe, M.D., Jerry A. Molitor, M.D., David E. Yocum, M.D., Thomas J. Schnitzer, M.D., Daniel E. Furst, M.D., Allen D. Sawitzke, M.D., Helen Shi, M.S., Kenneth D. Brandt, M.D., Roland W. Moskowitz, M.D., and H. James Williams, M.D. Glucosamine, Chondroitin Sulfate, and the Two in Combination for Painful Knee Osteoarthritis. N Engl J Med 2006; 354:795-808February 23, 2006