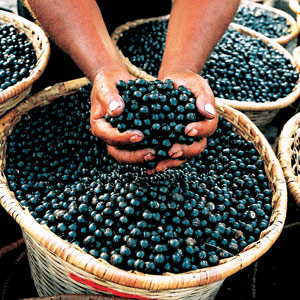 There's good reason why you may have been hearing more about these miraculous berries lately. Acai berries are growing in popularity, as research keeps revealing the benefits of consuming these little purple fruits. Nutritionists keep promoting Acai berries because they contain anti-oxidants, anthocyanins, healthy fats, fibers, and oleic acid, which all help promote a healthy heart and improve circulation through your body. Among the giant benefits that we will soon take a look at, Acai berries have been used to treat anything from skin conditions, to digestive issues, and weight loss. These benefits are great, but what about more serious and painful conditions such as arthritis and even tumor growth? Let's take a look…
For those suffering from arthritis or osteoarthritis, Acai berries may be the answer to stopping your inflammation and restoring the health to your bones. Due to their high antioxidant content, Acai berries help fight off free radicals that cause damage to the musculoskeletal parts and joints in our body. Out of all the fruits known to reduce pain and symptoms from arthritis, pomegranate is the leading benefactor, and next in line are Acai berries.
Other benefits of Acai include increased energy and stamina. They offer large amounts of Vitamin C and ellagic acid, which not only boost your immune system but also give you the energy you may be lacking throughout your day. Instead of another cup of coffee, try snacking on some Acai berries to help fight your fatigue or exhaustion during the middle of the day.
A study published in June 2008 by the Journal of Agriculture and Food Chemistry found that the polyphenolic chemicals in Acai berries can reduce cancer cell proliferation by 56%-86%. It is also believed that the phytochemicals in Acai berries are able to stop the process of carcinogenesis on a molecular level and help to kill tumorous cells before they begin to multiply.
More about other super-foods that are keeping others pain-free: (Click Here)
Check Out Our Other Top Lists and Tips!
At Real Time Pain Relief, we not only care about the quality ingredients that go into each and every one of our products – but also about the people who buy them. We hope this blog, and the articles posted on it, become a valued resource for your own personal journey to better health. We know natural products that reduce your pain at the source are important to you, and for more than 17 years, our Real Time Pain Relief rub-on has been providing fast acting, targeted pain relief with natural ingredients to thousands of satisfied customers. From the useful information on this blog to our high-quality natural products, we hope you become one of the thousands of customers telling us they "Enjoy Living Again!"