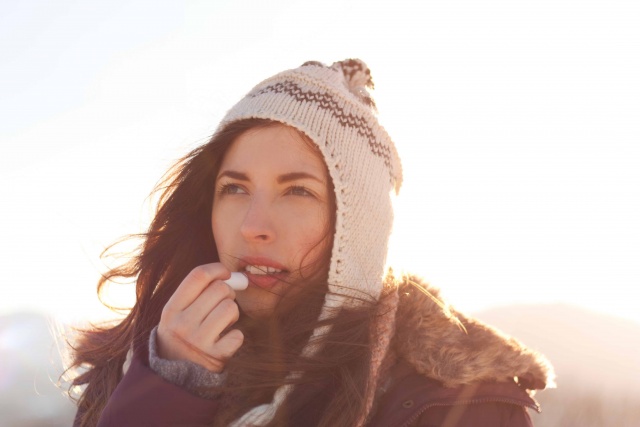 Our lips are one of our most exposed body parts to the wind, sun, and the cold. Unfortunately, this can result in dry, chapped, or cracked lips, causing pain and discomfort that nobody has time for. Keeping the lips healthy is important because chapping can turn into a cold sore or even an infection. Here are 3 simple tips to keep your lips healthy, no matter the weather!
#1) Moisturize
The skin on the lips is very thin and does not have oil glands like most of the body does. This means it is the most prone to drying out due to external stressors like wind, sun, and cold. To prevent this, it is best to apply moisture regularly. Find a good lip balm that includes ingredients like Coconut Oil, Shea Butter, Lanolin, Aloe Vera, and Jojoba oil. These ingredients are excellent for dry, chapped lips.
#2) Protect Lips From the Wind
When you are out in the wind, try wearing a scarf that covers your mouth so that your lips will be protected.
#3) Avoid Licking, Biting, or Rubbing Your Lips
The constant moisture or friction on your lips can lead to excessive dryness and irritation. Even if your lips feel excessively dry, licking them will not add any moisture. If your lips are bothering you, it is best to apply a moisturizing lip balm.
* Bonus Tip*
How to Reduce the Pain of Chapped Lips
If your lips are chapped so bad that they hurt, applying a lip balm can help ease the pain for you. Some ingredients to look for on the label are Arnica, Menthol, or Camphor.
Also make sure that your lip balm contains good moisturizing ingredients like Coconut oil, Shea butter, Beeswax, Aloe Vera, and Jojoba oil.
The combination of moisture and pain relief should help those lips of yours recover fast!
Check out our articles and infographics to learn a multitude of ways to start relieving your pain naturally!
Real Time Pain Relief not only cares about the quality ingredients that go into each and every one of our products – but also about the people who buy them. We hope this blog becomes a valued resource for your own personal journey to better health. For more than 17 years, Real Time Pain Relief has provided family safe pain relief made with Nature's Ingredients. From the useful information in our articles to our high-quality natural products, we hope you feel better and pass it on!