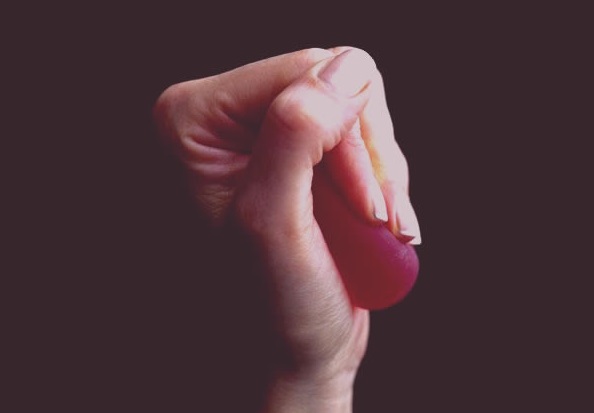 Looking for ways to improve hand strength? Therapy putty may bring you benefits that are anything but silly. Millions of those suffering from grip strength, immobilization, or those simply looking for more dexterity in the hands, are witnessing effective results from the use of resistance exercises through putty. This type of therapy putty is a silicone based, non-toxic, malleable clay that helps build stronger muscles in the hands, while reducing stiffness or soreness in the joints and other areas.
Exercises that benefit hand pain sufferers include creating shapes and figures, hand rolling the putty to massage palms and fingers, and even using the putty as a simple stress ball in the hand. Most of all the exercises with putty are resistance based, meaning that you are going to build the muscles in your hand that allow for better grip and dexterity.
Therapy putty is easy to find, easy to use, inexpensive, and lasts a long time. It doesn't get sticky and collect dust, so cleaning is a minimum. Keep some on your desk at work, by the nightstand at home, or even in the car; therapy putty can also be used with the feet. If you are experiencing loss of muscle or strength in the feet, simply manipulate the putty with your feet and toes as you would your hands. Strengthening foot muscles helps with balance and posture, and decreases your risk of injury while standing, walking, or running.
Therapy putty is also great for beginners, or those suffering from moderate amounts of pain in the hands because it doesn't require very much intensity to use. Some stress balls, hand grip exercisers, finger bands, and other such devices may require more strength and muscle work from your hands. If you're not capable of doing these types of exercises, then therapy putty may be the right choice for you.
For More About Devices for Hand Strength (Click Here)
Be sure to check out our other Top Lists and Tips!
At Real Time Pain Relief, we not only care about the quality ingredients that go into each and every one of our products – but also about the people who buy them. We hope this blog, and the articles posted on it, become a valued resource for your own personal journey to better health. We know natural products that reduce your pain at the source are important to you, and for more than 17 years, our Real Time Pain Relief rub-on has been providing fast acting, targeted pain relief with natural ingredients to thousands of satisfied customers. From the useful information on this blog to our high-quality natural products, we hope you become one of the thousands of customers telling us they "Enjoy Living Again!"