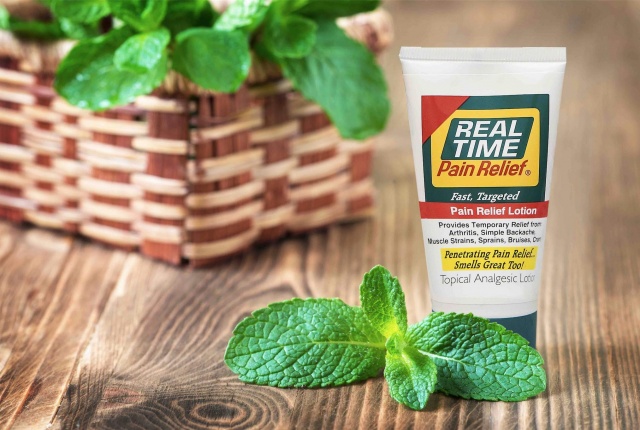 Real Time Pain Relief products are made with the safety of everyone in mind. Since 1998, we have utilized the powerful pain relief of Nature's active ingredient, Menthol, in its lowest effective dose, using concentrations ranging from 0.5% to 1.5%. From our 20 years of pain relief experience, Menthol in these doses still provides effective pain relief without bearing the concern for serious topical burns or injury.
Here are 4 Reasons Why

Real Time Pain Relief

Products Contain Low Menthol Levels:
#1) Skin Damage and Burns
The FDA cautions that topical pain relievers containing more than 3% menthol concentrations can cause skin damage and serious topical burns.
#2) Creates Need for Stronger Pain Relief in the Future
High Menthol concentrations increase your body's Substance P levels. Substance P is your body's way of communicating to you when and where you have pain. As it increases, your pain levels increase. Therefore, a high quantity of Menthol is actually counterintuitive when it comes to relieving your pain and creates the need for stronger pain relief in the future. Real Time Pain Relief keeps the concentrations low because we believe topical relievers should reduce your substance P levels, as well as your pain.
#3) Over-Masking Pain Can Have Negative Effects
Menthol is Nature's analgesic and creates a numbing effect where it is applied and disrupts pain signals to the brain, which is nice when you need relief. But, too much of a good thing isn't always the best thing for you. A menthol concentration over 3% in a topical pain reliever disconnects you from your body's signals, and with time, can lead to more problems. Menthol in smaller doses (1.5% or less) still provides effective pain relief without bearing the concern for future issues.
#4) Other Brands Often Use Up to 9x the Effective Dose
Most other brands of topical pain relievers take the risk and use 5%-15% Menthol concentrations.
Real Time Pain Relief is committed to make products with Menthol levels below 3% and to provide safe, fast-acting relief without a formidable burning sensation. Since it is possible to get effective relief from lower doses, we don't expect anyone to trade aches and pains for burning and irritated skin!
For 10 Tips to Relive Chronic Pain, (Click Here)
Check out our articles and infographics to learn a multitude of ways to start relieving your pain naturally!
At Real Time Pain Relief, we not only care about the quality ingredients that go into each and every one of our products – but also about the people who buy them. We hope this blog, and the articles posted on it, become a valued resource for your own personal journey to better health. We know natural products that reduce your pain at the source are important to you, and for more than 17 years, our Real Time Pain Relief rub-on has been providing fast acting, targeted pain relief with natural ingredients to thousands of satisfied customers. From the useful information on this blog to our high-quality natural products, we hope you become one of the thousands of customers telling us they "Enjoy Living Again!"