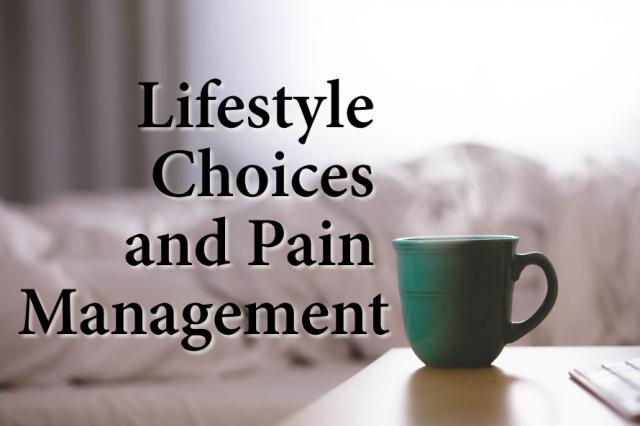 There are some who deal with pain on a day-to-day basis. Chronic pain can result from numerous types of illnesses and conditions, and those suffering are always searching for ways to take the pain away. Despite what type of pain you are experiencing, whether it be from an injury or a degenerative condition, most of us are willing to take any steps necessary to feel better and return to normalcy. For those who are dealing with conditions that present painful symptoms every day, the path to recovery may involve more than simply treating the symptoms. Conditions like arthritis, joint and bone deterioration, fibromyalgia, gout, sciatica, and other such disorders may take a different approach to preventing their painful symptoms. When we visit our physician, we often hear two words that may mean everything when it comes to you feeling better: lifestyle choices.
But what do these words actually mean? It's true that some of the best doctors will inform you of how the choices we make as far as diet, exercise, sleep, and other behaviors affect the severity of a condition. Sometimes these factors go overlooked, which is disturbing when you consider that many symptoms from painful musculoskeletal conditions are highly influenced by our lifestyle choices. Most people are unaware that inflammation in areas of the body may be treated by refraining from certain foods. They also may not know that there are certain foods for them to eat that can help fight inflammation.
Reviewing your lifestyle with your doctor will cover many areas. How much sleep do you get every night? How old is your mattress? How often do you get a chance to exercise? Are you stretching enough during that exercise? Do you consume abnormal amounts of high-fat or sugary foods? What position do you sit in at your job? How much physical labor is involved with your job? Do you have arthritis or another type of pain-inflicting injury that needs to be examined? How much stress do you deal with on a daily basis? Do you consume alcoholic beverages? If so, how many per week?
For more details about Natural Ways to Relieve Chronic Pain, (Click Here)
Be sure to check out our other Top Lists and Tips!
At Real Time Pain Relief, we not only care about the quality ingredients that go into each and every one of our products – but also about the people who buy them. We hope this blog, and the articles posted on it, become a valued resource for your own personal journey to better health. We know natural products that reduce your pain at the source are important to you, and for more than 17 years, our Real Time Pain Relief rub-on has been providing fast acting, targeted pain relief with natural ingredients to thousands of satisfied customers. From the useful information on this blog to our high-quality natural products, we hope you become one of the thousands of customers telling us they "Enjoy Living Again!"